Errors and content inaccuracies are the top reasons people list as causes to mistrust a website. According to a report from Neustar and the Ponemon Institute, 91 percent of consumers claim they do not trust a website that contains mistakes.
Respondents cited frequent downtime as their second biggest concern, with 88 percent saying that they do not trust a website that is unavailable. Load time can also be a negative trust factor, with 67 percent of respondents saying they do not trust slow-loading websites.
People tend to extend mistrust of one aspect of a firm's brand, like a website, to the firm itself. You can lose clients without ever speaking to them if the first experience they have with your firm is an inaccurate or slow-loading website. Fortunately, there are some simple ways to improve trust in your firm's website. Here are eight to try:
1. Hire an editor. Everyone, even the most seasoned writers, can benefit from an editor. Your editor should look for typos, spelling and grammatical errors as well as factual errors. Lawyer websites should not contain preventable mistakes.
2. Keep legal content up to date. If your website contains facts about the law, be sure to keep those facts fresh and accurate. Some firms, for example, will list information about tax rates or Medicaid eligibility, and those numbers change over time. If your site still lists information from 2013, your firm will look sloppy by association. Your website should reflect fluctuations in policy as laws are amended, passed or repealed.
3. Pay attention to your hosting environment. Do some research before settling on a hosting company. Ask questions about monitoring, security and down-time. Look at reviews to see if the company has consistent complaints about slow load times or steady praise for speedy performance. A bad host can cause mistrust among both visitors and search engines.
4. Publish case studies or representative cases. People looking for an attorney consistently cite experience handling similar cases as a top consideration in their search. If they can see instances in which your firm has achieved a favorable result for a comparable issue, they will be able to put themselves in that situation and see favorable results for themselves.
5. Post trusted security icons. According to the same report, 55 percent of consumers list a lack of security safeguards as a reason to mistrust a website. People are painfully aware of online security issues, as high-profile data breaches and hacks continue to be reported. And they are afraid of having their personal information revealed or of being victims of identity theft.
If you accept payments online, post the logos of your secure payment partners. If that does not apply to your firm, seals from authority sources also work as positive trust factors. For example, if your firm is Better Business Bureau Accredited, post their accreditation badge on every page of your website.
6. Use social proof. Social proof is the psychological phenomenon that states people will do what others are doing under the assumption that others' actions are reflective of the best behavior. Marketers have been using social proof for years; celebrity endorsements, waitlists for exclusive clubs and displays that showcase popular items are all well-used social proof tactics.
Online, items like testimonials, client reviews and award logos are popular and effective forms of social proof. If you can show your visitors that other people believe in you and trust your services, you can subconsciously influence them toward the same opinion. Video reviews are especially compelling because they allow your visitors to connect with someone who has faced a similar issue and understand how they can also be helped.
7. Highlight community involvement. Volunteerism and community engagement are activities that make visitors feel good about your firm. Write about instances in which your attorneys have volunteered for events, served on boards or organized projects. Post these stories on your blog and social media profiles. Encourage others in the community to join you for a charity walk or a day of volunteering for a local organization. This helps create the personal relationships that are so important to both marketing and business development.
Your firm can also create its own news by sponsoring events or scholarships. The return on the investment in an ongoing scholarship fund in terms of trust and recognition can be considerable.
8. Write good about and profile pages. People want to do business with other people — other people they can see and know. While they may research attorneys based on rational and measurable factors, like experience, in the end most purchasing decisions — even for services — are emotional ones.
Attorney bio pages are consistently some of the most visited pages on an attorney website. People want to know who they will be working with. Give them a reason to remember you by including personal details, quotes or anecdotes about why you practice. Post current, professional pictures of yourself and your team. Anyone can list a resume; a well-crafted bio will give visitors a reason to connect with you on a deeper level. Maybe they will find something unexpected in common, which can act as a springboard in future conversations.
Trust in your firm must be built over time with a combination of outreach, marketing, word of mouth and good client service. Support these efforts by maintaining a helpful, quality website — free of errors and out of date content — that your visitors can trust as well.
---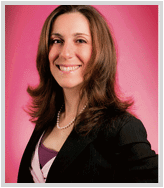 Kristen Friend holds two bachelors degrees from Indiana University and an associates degreee from the International Academy of Design. As Art Director for Custom Legal Marketing, her work has been awarded Webby Honorees, WebAwards, Davey Awards, Muse Awards, W3 Awards, and many others. She is also a contributor to Entrpreneur Magazine through the Entrepreneur Leadership Network.