A recent study by Software Advice showed consumers seeking a lawyer trust Yelp more than any other website, including the leading lawyer-specific directories.
Based on a poll of 3,465 respondents, Yelp has been established as both the most popular and most trusted legal resource. Here are the results.
Most Popular for Attorney Reviews:
Yelp – 58%
Super Lawyers – 20%
Martindale-Hubbell – 14%
Avvo – 8%
Most Trusted for Attorney Reviews:
Yelp – 61%
Martinedale-Hubbell – 20%
Avvo – 10%
Super Lawyers – 9%
Building a trustworthy Yelp profile is clearly important for prospective client approval. With this information in hand, everyone at the Custom Legal Marketing Lab wanted to dig a little a deeper. Does Yelp's popularity also convert to more referral traffic? That is, do these visitors to your Yelp profile then visit your law firm's website and reach out for contact?
Data Sample
We reviewed data from 357,570 site visits
All U.S. based law firms
Located in various regions
Equal representation of practice areas
We did not consider traffic from local directories tied to search engines (Google+, Yahoo Local, Bing Local, etc).
Our analysis found Yelp sitting respectably in third place, but both YellowPages and Avvo brought more visitors to legal sites.
Most Traffic Directed to Law Firm Websites:
YellowPages – 33.6%
Avvo – 27.4%
Yelp – 19.1%
Lawyers.com – 12.9%
Nolo – 4.8%
FindLaw – 2.3%
What We Learned
Reviewing our results, the overall popularity of a network did not always translate to more web traffic for the businesses featured on it. Furthermore, a network may not deliver more web traffic, but it may still deliver the all-important phone calls to your firm.
The big take-away is that your marketing dollars should go to whatever outlet delivers the most leads. Whether that process involves a direct phone call from a third-party site or a clickthrough to your firm's website, it ultimately matters most that leads find their way to your door.
Disclaimer
We did not review conversion rates for traffic from these sources, and we are not affiliated with any of the companies reviewed in this report. Further, we did not distinguish firms that paid for upgraded listing or services among our sample, nor did we analyze how those paid services may correlate with the number of visits received from a network.
Shareable Graphic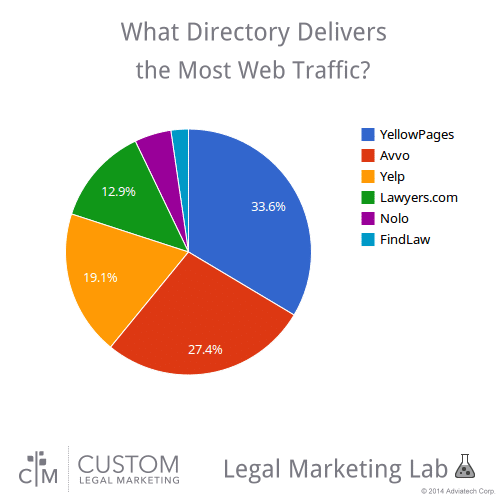 Downloads