We wanted to know how many times a visitor visits a law firm's website before contacting them. Do people like to research, view their options, or contact a law firm the first time they visit the firm's website?
Data Sample
We looked at 70,000 leads generated on law firm websites.
The sample included various practice areas.
Law firms and their leads were located in various cities in the United States.
The study only reviewed web contacts (leads that filled out a contact form). This data does not include visitors that called a law firm or used any other means to contact them.
For this report, a "visit" is counted as a unique visitor to your website. To qualify for any additional visits, he or she left for 30 minutes or more, then returned.
Chart
What We Learned
One Visit: A little more than 82% of web leads contacted a law firm the first time they visited its website. It's a safe majority.
Two Visits – Almost 10% of web leads waited until their second visit to contact the firm.
Three Visits – The third time was the charm for approximately 3% of web leads.
Four and Five Visits – 1.3% of our evaluated leads needed four to five visits before gaining the confidence to email. It did not appear that four or five offered any significant difference.
Six to Eight Visits – Less than 1% of leads required six to eight visits before contacting the firm.
Nine to 100 Visits – A surprising 1.7% visited nine to one hundred times before using a contact form. We actually discovered about 10 total web leads that were generated after a visitor went to the website over 100 times. Those very informed potential clients made up just 0.01% of the sample.
Shareable Graphic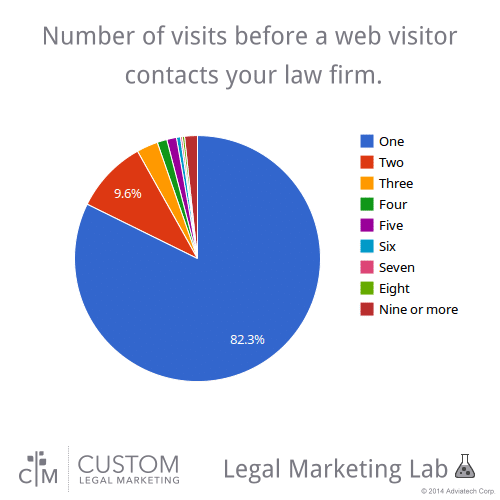 Downloads
[fbcomments]