Consumption of email on mobile devices is increasing rapidly. The rise of mobile email viewing is not surprising given the large shifts in internet browsing habits that have occurred over the past five years. According to a global Mobile Media Consumption report conducted by Decision Fuel and OnDevice Research on behalf of ad network InMobi, only 11 percent of internet users say they use a desktop machine most often to go online. The majority of respondents said they go online mostly via mobile (37 percent), while 23 percent said they go online using mobile devices exclusively.
In its Email Marketing Trends study, email marketing company Campaign Monitor explores the ways people's interaction with email has changed since 2011. The report finds more people open emails on a mobile device than any other environment. Email marketers ignore mobile at their own risk, but forgetting about desktops can also be problematic. One of the fundamental takeaways of the report is that while being accessible on mobile is critical, desktop opens still play an important role in email campaigns.
Key findings
1. Mobile has taken the lead in email opens when compared to desktop and webmail.
From 2011 to 2013, mobile email consumption increased by 30 percent. By the end of 2013, 41 percent of readers opened emails on a mobile device compared to 28 percent on a desktop computer and 22 percent on webmail. (Nine percent of opens were unknown or undetectable.) This is compared with the 3rd quarter of 2011, when mobile accounted for 21 percent of opens, desktop 40 percent and webmail 32 percent, with seven percent unknown or undetectable.
Other studies have found similar results. According to email tracking company Litmus, mobile email consumption has increased by 138 percent in the last 18 months, following a 48 percent increase in 2012. People no longer wait to sit down at a desktop computer to take care of emails. They check their emails on the go or while they are doing other things like watching television. Emails must become more and more engaging to combat other distractions confronting readers on a daily basis.
2. Outlook is still the most popular desktop and webmail client.
Outlook dominates the desktop email market, accounting for 56 percent of all desktop email opens. Apple Mail comes in second at 33 percent. Outlook is similarly preferred in the webmail space, with 48 percent of readers using Outlook.com and only 25 percent using Gmail and Yahoo mail respectively.
In terms of design, Outlook presents its own set of challenges. Outlook does not render emails in the same way other desktop programs like Apple Mail or web-based email platforms like Gmail do. Additionally, different editions of Outlook treat emails differently. What looks good in one edition my be unusable in another, making Outlook uniquely tricky to program for.
3. Click-through rates for all emails are on the decline.
Overall, people are not clicking from within emails as much as they did two years ago. Click-through rates averaged 19 percent in 2011 but only 3.1 percent in 2013. It is increasingly difficult to hold people's attention long enough to get them to click to your site in any environment.
4. Mobile devices have the lowest click-through rates as a percentage of opens.
More people click on emails with a mobile device. By environment, 33 percent of clicks come from mobile devices, 28 percent from desktop and 27 percent from webmail. But mobile comes in last when clicks are looked at as a percentage of opens. Only 11 percent of readers who open an email on a mobile device click through, compared to 14 percent of desktop users and 19 percent of webmail users. Not only does mobile have the lowest click-through rate as a percentage of opens, according to the research, mobile clicks continue to decline.
5. Most clicks occur on the first open.
If a reader is going to click through to your site from an email, it is most likely to happen on the first open. Across all devices, 87 percent of clicks happen the first time a reader opens an email. On mobile devices, 78 percent of clicks occur when the reader opens an email for the first time.
6. Mobile readers who open an email a second time from a different device are more likely to click through.
If you can get a mobile user to return to your email on another device, you are more likely to earn a click. Mobile readers are 65 percent more likely to follow a link from within an email if they open the email a second time using a desktop.
Key takeaways
Responsive rules. Just as websites can no longer be designed for a predictable set of monitor sizes, email marketing campaigns must be able to adapt to whatever device a reader is using. Responsive design has become a standard for websites. Responsive email design is trickier, given the differences in the way diverse email platforms render code, but it is worth the investment.
Most people will see your email on a mobile screen. However, 25 percent of those users will open the email again, and you must be prepared for readers to see the email a second time on a different device. You are more likely to engage users if you can present useful content in any format.
Mobile first design is coming to email. Designing for a mobile device first — before adapting the layout to a larger desktop device — forces marketers to distill the email down to its most important messages. It is no longer safe to just stick to a one column layout and assume the email will look good everywhere. You must actively consider how that layout will interact on different screen sizes. Too much text will force the email to be very long, which hinders readership and clicks. Too many images may be slow to load. Buttons that are too small are difficult to click on.
With responsive design, you can decide what information is displayed to different sets of users. You can take into account the different obstacles mobile users face. Ask yourself questions. What do mobile users really need to see? What will make mobile users more likely to click?
Make content engaging enough to have an email reopened. You want people to return to your email. Since readers are less likely to click on mobile emails on the first open but more likely to click if they open an email a second time, you must provide content that gives them a reason to do so. Give readers information they can act upon, like signing up for an event or downloading a helpful resource.
The landing page experience is part of email marketing. If you do convince readers to click through to your landing pages, their positive experience with your firm must continue fluidly onto your site. People who have accessed the site on a mobile device must see a mobile-friendly layout. Campaign Monitor's research showed some people are willing to come back to an email they find interesting. But people are much less tolerant of bad mobile website experiences. One click to a poorly designed site can sour readers to all future correspondence.
Designing for all readers is a better business practice overall, email marketing included. Doing the work to ensure all visitors are presented with the information they need quickly and without hassle is good for any firm's bottom line.
---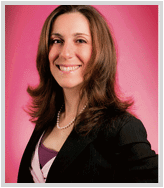 Kristen Friend holds two bachelors degrees from Indiana University and an associates degreee from the International Academy of Design. As Art Director for Custom Legal Marketing, her work has been awarded Webby Honorees, WebAwards, Davey Awards, Muse Awards, W3 Awards, and many others. She is also a contributor to Entrpreneur Magazine through the Entrepreneur Leadership Network.