In mid-April, the Wall Street Journal reported (subscription) that Google may allow companies to use customer information, like email addresses, to assist with ad targeting. The change could occur within the year. According to anonymous sources, Google has been discussing the possible use of such data with advertisers, who have been pushing Google to reconsider its policy concerning first-party data for some time.
Google has been hesitant to allow advertisers to use first-party data, citing privacy concerns. But the search giant has faced increasing pressure from businesses — each paying a substantial amount to advertise with Google — that would like to use specific, known data to better target customer segments in pay-per-click ads. This pressure comes on top of the fact that as more traffic moves to mobile, Google is losing ad revenue due to the lower click costs of mobile ads. Google is also feeling the squeeze from Facebook and Twitter, both of which already allow advertisers to use first-party data in ad targeting.
What is First-Party Data?
First-party data is any information you collect about your clients. This includes email addresses, physical addresses, online behavior, data stored in customer relationship management (CRM) databases and any other statistics gathered directly by your firm. This distinguishes first-party data from second-party data, that collected by a partner or affiliate, and third-party data, that purchased from another company.
First-party data on Facebook and Twitter
Both Facebook and Twitter rolled out advertising programs that support the use of first-party data in 2013. With Facebook Custom Audiences, a firm can upload a list of up to 100 email addresses or phone numbers belonging to individuals to whom it would like to advertise. Facebook will recognize these users when they are online and will serve ads to that specific audience.
Twitter has a similar program called Tailored Audiences. The Tailored Audiences program allows businesses to show Promoted Tweets to specific groups based on uploaded data, which includes email addresses, browser information (from cookies), Twitter usernames and CRM data.
AdWords remarketing lists for search ads
Google lets advertisers target specific audiences, but the method is a bit more limited. The closest option to what is currently being offered by Facebook and Twitter is AdWords remarketing lists for search ads (RLSAs). RLSAs let firms advertise to people who have previously visited their firm websites. These lists do let firms advertise to potential clients with some specificity. You can increase bids for certain keywords when an ad is shown to people who have visited your site in the last two weeks, for example, or you can display specific ads to users who visited certain pages on your site.
Retargeting lists, however, stop short of letting a firm target people who have never visited its website, but who could be potentially high-value leads.
What could this mean for search?
If AdWords were to accept the upload of a CRM file, a firm's advertising options would change considerably. Google would recognize the email addresses of its logged in users and serve highly personalized ads to these individuals. This could deliver better advertising outcomes in the following ways:
1. Personalization. The web is no longer one size fits all. Users increasingly expect a custom online experience. Online tracking technology company AddThis has declared 2015 to be the year of personalization. Big brands like Amazon and Netflix are masters of personalization — each recommending content based on a user's past habits. The content is built to match the (perceived) best interests of each company's individual users.
Personalization can be very effective in advertising. Combining knowledge about online behavior with data your firm has collected about prospective clients allows you to develop different customer personas. Each of these personas may need to be approached in distinct ways. A study by the Network Advertising Initiative showed that targeted ads converted at rate of 6.8 percent, compared with a conversion rate of 2.8 percent for non-targeted ads.
2. Broader reach. Your firm has built a solid email list. You send out publications regularly and keep in touch with your readers. However, even a very good open rate for email marketing campaigns is still well under 50 percent. Using first-party data would allow your firm to reach people who may not be opening your newsletters.
Use of CRM data for targeting also lets you display ads to people who have never searched for you or been to your site, but whom you know to be potentially valuable leads. You can increase or decrease bids based on user data, or opt-out of displaying ads to some users altogether. You could also personalize text and images to speak directly to individuals who may not otherwise have searched for you.
3. Connect offline and online activity. First-party data is not limited to information gathered online. Postal addresses, for example, could be incorporated into ad targeting. Going deeper, you can use information you know about people from past interactions to show ads that will garner the maximum amount of interest. If your firm has given a seminar on a specific topic or participated in a charity event and collected contact information from people attending either of those events, you already have clear audience segments that can be reached through online advertising.
In marketing, more information is almost always better. The more you know about your potential clients and their habits, the more likely you will be able to create advertising that connects with people in positive ways. Google's potential shift in policy would open new doors to firms wishing to dig deeper into paid online advertising.
---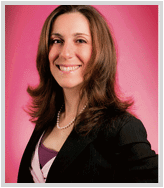 Kristen Friend holds two bachelors degrees from Indiana University and an associates degreee from the International Academy of Design. As Art Director for Custom Legal Marketing, her work has been awarded Webby Honorees, WebAwards, Davey Awards, Muse Awards, W3 Awards, and many others. She is also a contributor to Entrpreneur Magazine through the Entrepreneur Leadership Network.