Moz released the results of its 2017 Local Ranking Factors Survey at the beginning of the week. The survey contains insights from over three dozen SEO industry experts about what it takes to make it to the local map pack and rank well in organic search.
Participants were asked to rate a number of local signals from the physical location of a business to the volume of quality content on an entire website, and over 100 other things in between.
Moz has performed the study every year since 2008, with a brief break in 2016 as David Mihm passed the torch to Darren Shaw. Now it is back, with plenty of observations and commentary about the state of local SEO in 2017.
What does Google want?
No one knows what exactly what information Google's algorithm uses to determine rankings. Since Google doesn't share its secrets, those within the SEO industry spend countless hours trying to reverse engineer the algorithm in as much detail as possible.
For its part, Google lists three ranking components on its Google My Business help page: relevance, distance and prominence. Relevance, as the name implies, refers to how well the services your firm offers meet the needs of the searcher. That is, how relevant you are to a given query.
Distance, or proximity, is simply how close the searcher is physically to your location. As this article will discuss later, the importance of proximity for local rankings is increasing.
Prominence is a measure of business fame. Google uses a number of signals from across the web to determine how recognizable a business is within its community. Businesses that Google determines are well-known rank higher in local results.
So there it is. Three little things. Easy, right?
Google is pretty good at determining a searcher's proximity to a local businesses. However, many factors combine to measure relevance and prominence. Hundreds, from what those who specialize in the matter can tell. These are the determinants experts spend their days trying to uncover and analyze in order to understand the relative important of different elements to a business's local ranking, both within the map and in organic results.
The key question is: out of the potentially hundreds of factors affecting your rankings, which should your firm focus on? What has the best payoff for the effort?
The study
General ranking factors
The first two survey questions asked participants to rate a number of ranking factors. First, as a broad overview of the major local players, eight general ranking factors were rated by percentage of influence. These include:
Google My Business Signals
Link Signals
On-Page Signals
Citation Signals
Review Signals
Behavioral Signals
Personalization
Social Signals
Experts were asked to weigh in on how much these "thematic clusters" affect local map pack and organic local rankings. Here are the results for local pack ranking factors: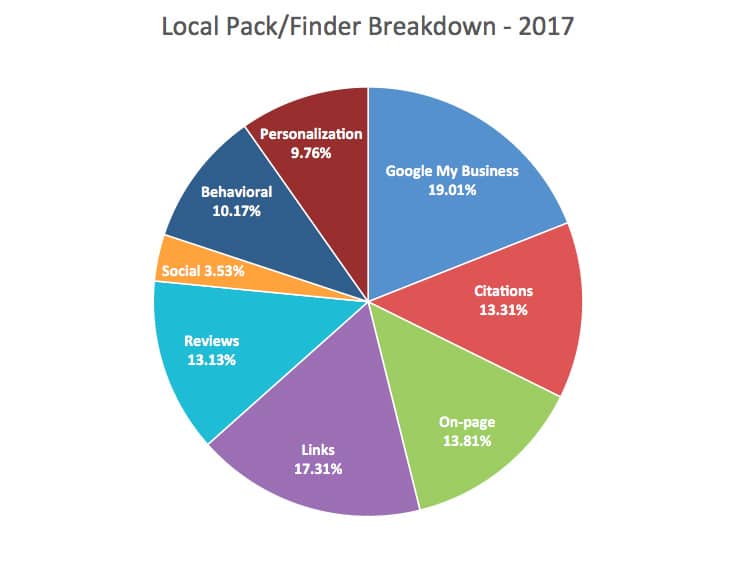 As the graph demonstrates, no overwhelming, clear winner emerges as the most influential general factor influencing local pack results. Social media lags significantly, but the others are fairly close with regard to perceived impact.
Trends
Moz last conducted a local rankings survey in 2015. Here is some noteworthy movement since the last survey (percentages = relative influence of factor):
Link signals: moved from 14.83 percent in 2015 to 17.31 percent in 2017 for an increase of 16.73 percent
Link signals include the quantity and quality of inbound links to your website.
Citation signals: moved from 17.14 percent in 2015 to 13.31 percent in 2017 for a decrease of 22.36 percent
A citation is any mention of your firm on the web. A citation may or may not contain a link. Most law firm citations will come from directories. Press mentions are another valuable way for firms to build citations.
Citations are still a very important ranking factor. This number represents a shift away from focusing efforts on attempts to locate every citation out there to focusing on having strong citations on top-tier sites.
Review Signals: moved from 10.80 percent in 2015 to 13.13 percent in 2017 for an increase of 21.53 percent
Review signals include the number of reviews your firm is receiving, how quickly you are receiving them and the diversity of sites on which reviews appear.
Behavioral Signals: moved from 8.6 percent in 2015 to 10.17 percent in 2017 for an increase of 18.22 percent
Behavioral signals measure how people engage with your pages. Two big behavioral signals include click-through rate and dwell time (how long people spend on your site). Behavioral signals also include things like whether people conduct additional searches after visiting your site or whether they return to search results and click on another result after having visited your site. Google looks at the ways a searcher interacts with your site and what he or she does after leaving your site as an indication of how well your website fulfilled the purpose of a query.
Google My Business signals — items that appear on your Google My Business Profile — are still believed to have the most influence at 19 percent, although with a slight decline since 2015.
Local pack vs. organic results
Two factors did stand out in terms of influence with regard to localized organic rankings. Link signals received a 29 percent influence score and on-page signals (domain authority, keywords in titles, contact information, etc.) received 24 percent.
Link signals received a score of 17 percent for local pack influence and on-page signals a score of 14 percent. This underlines the need to engage in a variety of activities both on- and off-site in order to compete for the precious few spots available in the local pack and on the first page of organic results.
Specific ranking factors
Next, respondents were asked to list what they consider to be the top 20 factors out of a group of 113 items for both the local map pack and organic search results.
Physical location is seen as very important to winning a place in the local map 3-pack, with proximity of a business's address to the searcher coming in as the top factor. The increased importance Google is assigning proximity poses a challenge to lawyers. A searcher may want the closest convenience store or gas station, because one is pretty similar to another. However, while people are looking for a lawyer in their area, they are not necessarily looking for the closest lawyer. They are looking for the best lawyer.
Law firms, therefore, need to over perform in other areas to compensate for weighted proximity. Be sure, for example, that your Google My Business profile is as complete as possible. Choose appropriate categories for your services — having proper Google My Business category associations is rated as the third most influential local map pack ranking signal. Upload high quality pictures. Build your portfolio of quality inbound links. Quality and authority of inbound links is still seen as the most important organic SEO ranking factor.
Here are the top five factors for both the local pack and organic search:
Foundational and competitive factors
This year's survey did something differently by breaking ranking factors into two categories: foundational and competitive.
Foundational factors are the basics. These are the things you should be doing if you want to have any shot at ranking well for your desired terms.
Competitive factors are the actions that can help give you an advantage over other firms who also have the foundational essentials intact. These are the difference-makers.
Here are the top five in each category:
Many of the top five foundational factors are location-based, although proper category associations in your Google My Business profile and consistency of citations come in at the top.
Four of the top five competitive factors are link related. Link-building is an effort your firm can undertake with real, measurable results.
The action list, therefore, goes something like this:
1. It is helpful, if possible, for your address to be within the physical limits of the city in which you are trying to rank.
2. It is helpful to be close to the searcher, although this is out of your control.
3. Have the basics, like accurate information in your Google My Business profile and consistent name address and phone number (NAP) data in your citations, down.
4. Start working on the difference-makers: inbound links, reviews and on-site user experience.
Moz's local ranking factor survey is the result of a lot of detailed work on the part of Darren Shaw and a good deal of thoughtful commentary and replies from top SEO industry insiders. It is a good measure of where the industry believes local search is headed and can provide insight on some of the more helpful actions your firm can take now. You can read the complete results here.
---
Kristen Friend holds two bachelors degrees from Indiana University and an associates degreee from the International Academy of Design. As Art Director for Custom Legal Marketing, her work has been awarded Webby Honorees, WebAwards, Davey Awards, Muse Awards, W3 Awards, and many others. She is also a contributor to Entrpreneur Magazine through the Entrepreneur Leadership Network.