It is no secret that content is important to search rankings. And not just any content, quality content.
Quality, however, is a nebulous word. Google is quick to say it wants quality but less eager to define exactly what that means. The term quality may also symbolize different things to different people, in terms of characteristics like length, style, subject matter or even type of content.
On top of that, many people can write quality content. As Rand Fishkin has argued at Moz, there is a low bar to entry if you are just trying to write good enough content. A lot of good writers are out there on the internet. You may be producing content that is good, even unique, but still not be seeing the results you think you think you should. And you are not alone.
At this point in the life cycle of content marketing, there is too much competition to win with simply good content. Your content must stand out as the best explanation, best answer or best article for any given topic. It must be better than good. This is no small task, but it can be done if you understand your firm's competitive environment and focus your efforts on the areas in which you can fill knowledge gaps with thoughtfully engineered content.
Here is a list of action items you can use to help with this undertaking.
1. Understand your users' experience: Do you know what visitors are looking for?
One of Google's most offered pieces of advice is that you should write for people, not search engines. In its Webmaster Quality Guidelines, Google states, "Make pages primarily for users, not for search engines," and on it's Webmaster Central Blog it asks, "Are the topics driven by genuine interests of readers of the site?"
Google wants to know that every choice is made with users in mind, from subject matter to graphic elements that affect page speed.
Action items:
a. Research user expectations. You should understand why an individual may be visiting your website and what he or she expects once arriving on a page. What types of questions do visitors need answered? How do they expect information to be presented — graphically, textually, maybe in a video? How do they use navigation? It is best not to make guesses and assume you know your users. If you can, ask clients about their hiring process as part of an exit interview. Or, set up a focus group.
b. Put yourself in your users' shoes. Visit your site from the perspective of someone who has never seen it before. How easy is it to find important navigation items? How quickly does the page answer specific questions? Is it written in language most of your clients will understand? It may also be helpful give your friends a set of tasks and watch how easily (or not) they perform them. You can also use online tools that record visitor sessions. Software like this will show you how visitors are moving around on the page and where they may get stuck.
c. Use topically relevant and varied keywords. Google is no longer looking for one specific keyword or string of keywords when determining what pages should be shown in search results for a specific query. Begin with a certain set of keywords in mind and write with the aim of including others that will help Google better understand the context of a page. Writing naturally, as you would speak, is far more effective than playing a keyword numbers game.
2. Nail the technical specs: Is your content accurate and well-written?
Ensuring content is well-edited and factually correct is especially important for lawyers. Google labels pages with the potential to impact a visitor's "current or future well-being" as Your Money or Your Life pages, and it holds content on such pages to higher standards.
Google's Webmaster Central Blog also states that content should not have "spelling, stylistic, or factual errors," as these can be distracting to visitors. Errors also make your firm seem less professional and trustworthy. It is difficult to convince potential clients you will look at their case with attention to detail when your website contains inaccurate information or grammatical mistakes.
Action items:
a. Hire an independent editor to review your content.
b. If you link to outside sources as factual references, make sure these sources are themselves reputable. Google considers the trustworthiness of those who link to you and those to whom you link.
c. Arrange content so that it is easily scannable. Break pages up topically with headers and sub headers, and put your most important points at the beginning of sections and the beginning of paragraphs.
d. Perform regular website audits to ensure your writing is accurate. What was correct last year may no longer be true today.
3. E-A-T right: Do your pages display expertise, authoritativeness and trustworthiness?
In 2015, Google first released the full version of its Search Quality Rating Guidelines. In 2016, it released updates, which were heavily focused on mobile experience. These are the guidelines Google gives to its human raters, who perform searches to test its algorithm. They are, therefore, not part of the algorithm, but are an indication of the types results Google wants its algorithm to deliver.
In the guidelines, Google goes into great detail about E-A-T, or Expertise – Authoritativeness – Trustworthiness. This is the metric by which Google's testers score pages. Evaluators are told that high-quality pages possess a good deal of E-A-T while low-quality pages have very little.
Action Items:
a. Encourage reviews. Earning a diversity of positive reviews on your own site and on third-party sites tells Google that others trust your firm's reputation. This adds to your authority. (In particular, focus on getting good reviews on your Google My Business listing.)
b. Perform detailed, original research. Google is looking for pages that answer a question in a different or interesting manner when compared to others on the same topic. It is also looking for pages that are well-researched. Pages do not have to be long, but they should contain original information or a unique perspective on that information. Focusing on narrow, niche topics page-by-page, rather than trying to write broad, all encompassing overviews can help with this strategy.
c. Publish accurate contact information, and make it easy to find. Also be sure that your name, address and phone number are exactly the same on your website and on your Google My Business page.
d. Write detailed about pages. Google is looking for information that describes the entity responsible for the website. When you tell your story, you not only connect with potential clients, you also let Google know that you are a real person with a real history in the law.
All of these actions help you answer yes to Google's guideline: "Does the page provide substantial value when compared to other pages in search results?"
4. Be genuine: Is your content authentic and credible?
SEO aside, authenticity is a great tool for building trust and connections with potential clients. Hiring a lawyer is, in a way, a very personal decision. Your clients need to know that you can be successful handling their cases, and they need to know they can tolerate you in the process.
When you allow yourself to show your human side, you may be surprised what you have in common with clients — and they with you.
Action Items:
a. Speak in your own voice. Legal jargon is for journals, not websites. Readers are frustrated not impressed by words they don't understand. Speak their language.
b. Talk to, not at. By the nature of the attorney-client relationship, you are in a position of authority. But this does not mean you need to talk down to readers. Show respect by speaking directly to their concerns. People respond more positively if they feel like the writer understands their perspective.
c. Interact with visitors who comment on your content and posts.
Being genuine also helps you meet Google's recommendation to make your content "engaging."
5. Suggest next steps: Is your content actionable?
This recommendation is as much for your bottom line as it is for your search marketing efforts. If you want visitors to become leads, make taking action easy. You should be investing in a marketing product that produces measurable results for your firm.
Action Items:
a. Provide a clear call to action. Identify the most important step you want a visitor to take, and highlight it with a clear call to action. Keep in mind this step may not be the same on every page. What is most important is to avoid cluttering any one page with too many calls to action.
b. Write content that contains instruction. Actionable content may not always refer to a piece that contains a specific call to action. Content may be actionable by giving readers something to do offline, for example, "Steps to Take Before Filing a Personal Injury Lawsuit," or "Items to Prepare Before an Initial Consultation."
The reality of the content marketing landscape supports a strategy of producing a more limited amount of well-crafted content, as opposed to simply publishing as much content as you can. Not all content is king.
---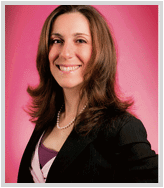 Kristen Friend holds two bachelors degrees from Indiana University and an associates degreee from the International Academy of Design. As Art Director for Custom Legal Marketing, her work has been awarded Webby Honorees, WebAwards, Davey Awards, Muse Awards, W3 Awards, and many others. She is also a contributor to Entrpreneur Magazine through the Entrepreneur Leadership Network.