Google is rolling out their Mobile-Only Indexing update "sometime in March." While there isn't a specific date announced, the law firm SEO team here at Custom Legal Marketing has been treating March 1st as a hard deadline.
What is Mobile-Only Indexing?
Mobile-Only indexing means that Google will no longer index any content like text, videos, and images that are not visible on mobile devices. For example, you may have a different header for desktop visitors than you do mobile users. After Google completes their mobile-only indexing update, only the content seen in the mobile layout will be indexed.
What Will Happen to My Law Firm's Rankings?
Even though your website may be ready for mobile-only indexing, that doesn't mean you won't be affected by the update. When Google deletes all of these old mobile-unfriendly websites, that changes the makeup of their index.
Ideally, this change is for the better. Google is essentially clearing the way for websites like yours and others that are providing a modern user experience to become more easily accessible. So this change could actually improve your rankings.
However, like many broad core algorithm updates, the initial impact could cause ranking turbulence where you see your prized rankings fluctuate... either way up or way down. You may notice keywords where you enjoyed stable top placement may suddenly drop...but don't panic!
Temporary lows can lead to new highs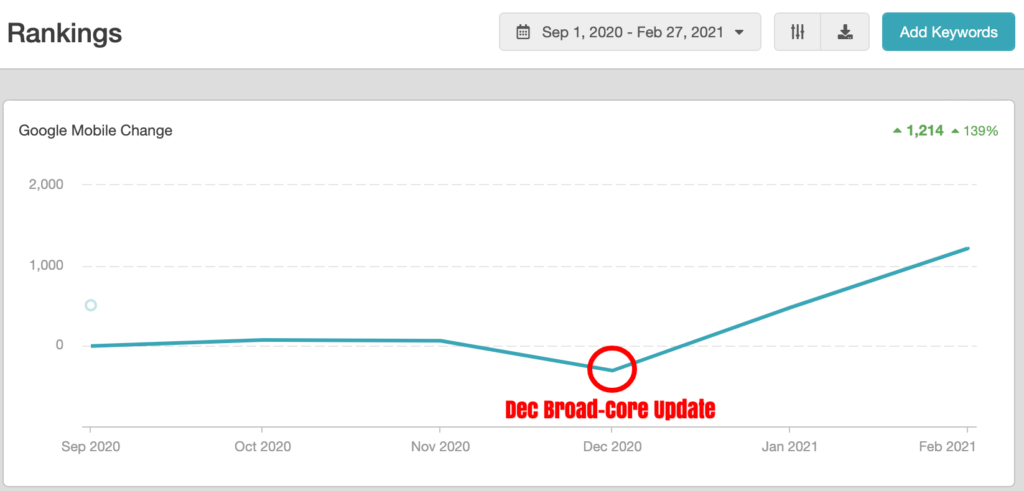 We're approaching this month as we would any period where Google is rolling out a major change to their algorithm. We expect initial turbulence but improved positions for our clients after the dust settles. The above chart is for one of our personal injury SEO clients.
In the month of December during Google's broad-core algorithm update, their mobile rankings dropped. In one month, they lost 330+ positions. But that was just temporary. They came back stronger in January and now they have enjoyed a net-gain of 1,500+ positions in Google's mobile and desktop search rankings.
So don't stress out about the storm in March. Things might look bumpy at first but at the end of it, we'll investigate the new firms that got a boost, track down the sites that lost positions, and use this data to update our strategy and keep you on the right track.
---
Jason Bland is a Co-Founder of Custom Legal Marketing. He focuses on strategies for law firms in highly competitive markets. He's a contributor on Forbes.com, is a member of the Forbes Agency Council, Young Entrepreneurs Council, and has been quoted in Inc. Magazine, Business Journals, Above the Law, and many other publications.