Recently, I contributed an article to Forbes, titled "Bilingual Law Firms May Be Missing Out On A Huge SEO Benefit." I was inspired to write the piece because of how often I see multi-lingual law firms doing all the wrong things and leaving valuable leads on the table.
While my article focuses on Spanish, which is the second most dominant language in the United States, you can apply the principles to any language.
Here are some key takeaways from the article:
You could be missing out on a significant demographic.
"Over 41 million people in the United States speak Spanish at home. That's just under 13% of the population. Spanish speakers make up nearly 30% of the population in Texas and California, respectively, and more than 20% in Florida."
That's a lot of potential leads! Plus, as Hispanic communities continue to thrive, the types of legal services they need will also expand.
You need more than just one translated page.
Having just one page that says "se habla español" is not enough. You need fully translated content. You can do this in several ways:
Content Only Translations
For Briskman Briskman & Greenberg, we have the practice area page titled "Chicago car accident lawyers" and then we have a human-translated version that links to that page titled, Abogados de accidentes vehiculares y accidentes en Chicago.
This gives Google content to index and the end user has a page of content that is easy to read. This was the traditional way of translating websites but what we're working on now for the Illinois-based personal injury law firm is a little more advanced and represents the future of multi-lingual SEO... full site translations.
Full Site Translations
We recently launched an award-winning website for the South Carolina personal injury attorneys at the Steinberg Law Firm. When building their new website, we deployed a solution that does an AI translation of all pages with the ability for us to send in a translator to proof and adjust as needed.
The results are extraordinary! By doing a full site translation, we're able to deliver over 1,000 pages of Spanish content to Google. Of course, you still need a targeted link-building strategy to your core practice area pages, but once those Spanish pages earn some authority, they skyrocket to the top.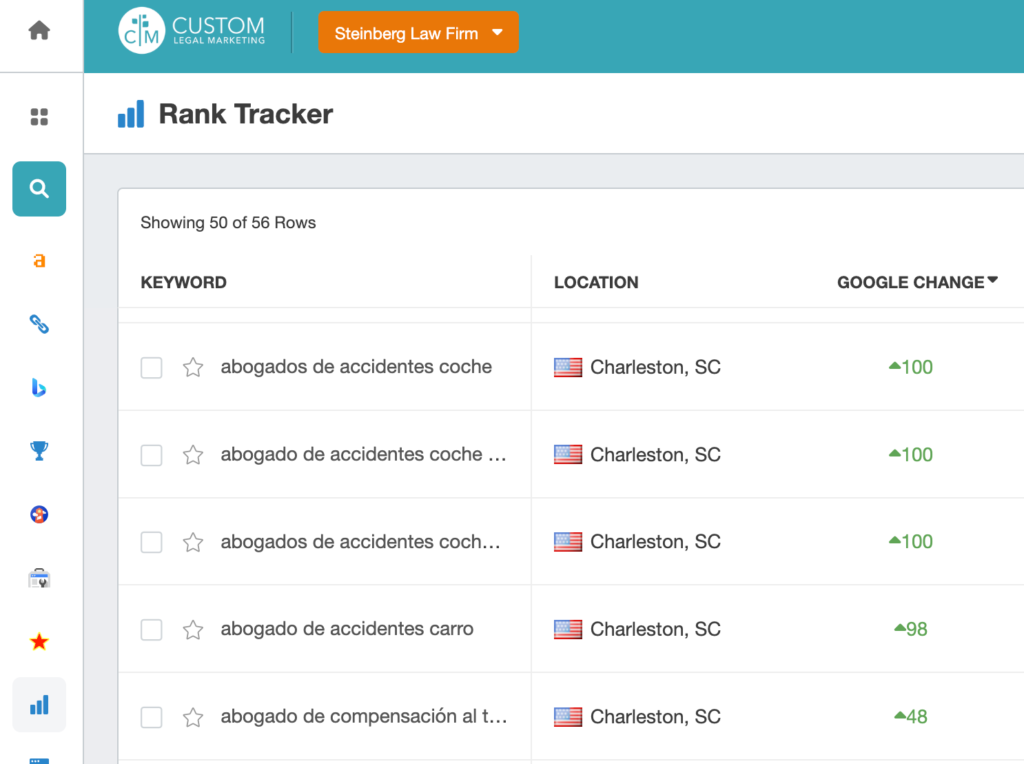 In July, Steinberg Law Firm's organic traffic was almost 70% higher than the month prior to launch. Searchers looking for South Carolina Abogados de lesiones personales are getting a fully translated experience… but what does that mean?
Whole Site Translation Means Everything!
Part of the success of the Spanish content is not just indexability in Google but also the user experience for your potential lead.
That's why, every element of your site should be translated from header to menu, to footer. By doing so, you're delivering the best user experience to every visitor regardless of their native language.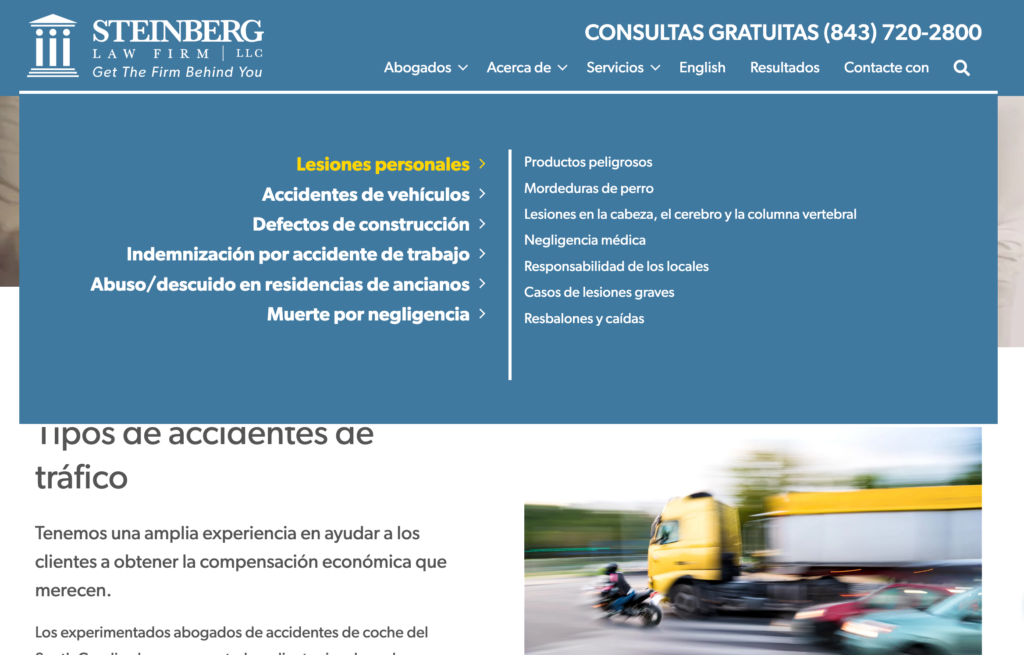 On a translated page, all elements including headers and menus should be in the same language.
Whole Site Translations Also Help Local
By expanding your site with multi-lingual content, you are now, more relevant in Google My Business to spanish searches.
For example, on injury related searches for "abogados" now has our friends at Steinberg Law Firm ranking at the top of the map.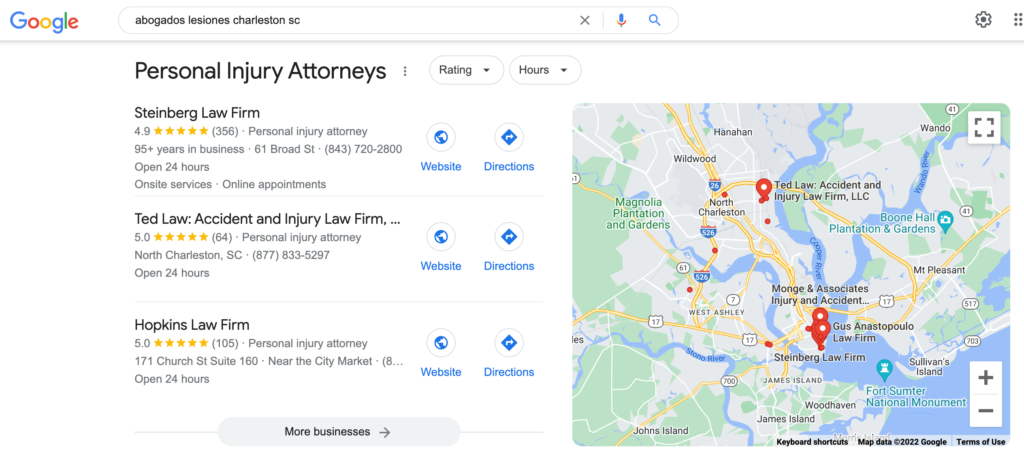 Spanish translations help local SEO
Use Smart Buttons
Last but not least, make sure you install dynamic buttons to allow users to navigate between languages. Someone may have landed on a Spanish page by mistake and might need to navigate back to the English section.
We recently setup a full site translation solution for the California lemon law attorneys at Wirtz Law. If you're on the English site, there is a button at the top that says "Espanol." When navigating to a page like Abogados de la ley limón de California, that button dynamically changes to "English."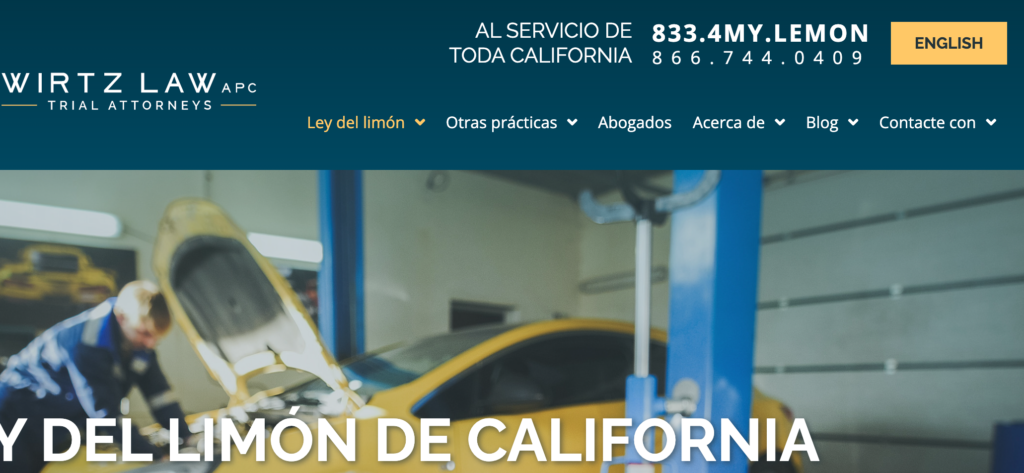 The language button at the top of the page allows visitors to switch to a different language.
Remember, the value of doing a full site translation is not only to earn better SEO results but also, a better user experience. You don't want any visitor to get stuck on a part of your site that is displaying a language they're unfamiliar with.
Want better SEO results in any language? Schedule a meeting today! A conversation with one of our legal marketing experts is always free.
---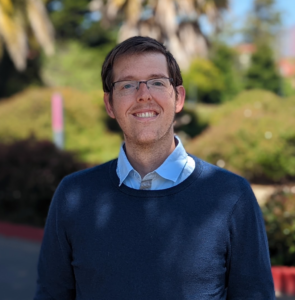 Jason Bland is a Co-Founder of Custom Legal Marketing. He focuses on strategies for law firms in highly competitive markets. He's a contributor on Forbes.com, is a member of the Forbes Agency Council, Young Entrepreneurs Council, and has been quoted in Inc. Magazine, Business Journals, Above the Law, and many other publications.