Your firm's website is one marketing tool that can function for you at any time and in almost any place. Your site is working as your brand ambassador while you are sleeping, when you are in court, as you are preparing a case or when you just need to enjoy some time away from thinking about the business of running your firm.
Since your website may be the only contact a prospective client has with your firm before forming an opinion, visitors must find it to be trustworthy from the outset.
Big brands achieve a level of trust in part through marketing and also by providing a consistent product. You expect a certain experience from a brand you love, whether it is a favorite restaurant, a well-used running shoe or an app provider. When any of the businesses you trust releases a new item, you understand it will perform in a certain way – even before you have tried it.
Likewise, your website can be used to build the expectation of a positive experience for prospective clients. By paying attention to trust factors, you can influence the ways visitors will interact with your pages and encourage them to perform the actions you have laid out for them. Consider incorporating these seven practices into your firm's website design.
1. Employ commonly understood parameters
Your site should make it immediately clear what you do and give the visitor a simple path to conversion. Show visitors plainly what steps you want them to take – a call to action cannot be too obvious. A professional website is not the space in which to start experimenting with paradigms that could prove to be too clever for their own purposes.
The experience users have with your site should fit within generally accepted assumptions about website functionality. This does not mean you cannot be creative, but acknowledging user expectations shows you respect visitors and the time they are spending on your site. People expect to find navigation, contact information and calls to action in certain ways. They tend read websites in a 'Z' pattern, from the top left down. Keep these habits in mind when placing text and graphics - do not make visitors relearn years of practice-based knowledge.
2. Pay attention to details
Visual consistency is both calming and reassuring. When done well, it is almost unnoticeable. When elements are inconsistent, however, visitors may quickly become frustrated and lose trust. Use one or two thoughtfully chosen fonts, ensure all link and title colors match, give all buttons the same shape and color scheme, place navigation in the same area from page to page and be sure all images are of a similar style. Sometimes it is necessary to put significant effort into making an experience seem effortless.
3. Use custom photography
Visitors tend to engage more with photography when they understand it portrays actual people they may have contact with when hiring a service provider. High-quality stock can provide some compelling options, but visitors know when they are looking at the real thing. Hire a photographer to capture candid moments. Show attorneys in their own settings, in and outside of the office. Do you have an attorney who volunteers at a museum or library? Capture images of him or her in that environment. Your attorneys are more than just resume bullet points, and your website should showcase this diversity.
4. Build a harmonious color palette
Colors are powerful emotional triggers that are understood subconsciously on a societal level. Some colors may carry conflicting messages. Red, for example can symbolize love or anger, authority or aggression. The colors you choose must be representative of your firm's personality and they must not compete with each other. Pick one main color and one or two accent colors. Accent colors can be contrasting, like blue and orange, or from within the same color palette, like deep blue and turquoise. Whichever colors you choose, understand the associated emotions and use them to pull the site together not fight with each other for visitors' attention.
5. Apply social proof
Social proof is the psychological phenomenon that people tend to do what they see others already doing in order to ensure they are behaving correctly in a given situation. Testimonials are one of the most effective forms of social proof, and attorneys should take advantage of them. Display positive comments you have received from clients. Give others a method of providing feedback so they feel genuinely heard.
If you use social media regularly, connect your profiles to your website. This provides another avenue through which visitors can see you as an active participant in your firm and your community. If you have been featured in any local or national media, post links. Feature videos in which you have been interviewed. Any method that shows you are trusted and respected by others will influence prospective clients to feel the same way.
6. Balance information density
Information density – the amount of stuff on the page – is one of the top factors visitors use during their initial evaluation of a website. A common mistake in website design is assuming that people need to see a lot of options. Consumers, in fact, do not really like options. Presenting more material reduces the likelihood that a visitor will make a decision. Offer limited choices and use white space to clearly delineate pieces of content. You may still provide visitors with a good deal of information, but in a well-organized, low-density, easy to digest manner.
7. Be human
One of the best ways to build trust is through simple emotional connection. Show potential clients how you will find a resolution to their concerns. Explain why you entered your field and let people know what you are passionate about. Write for people, not search engines. Building trust and authority naturally is a powerful marketing strategy.
---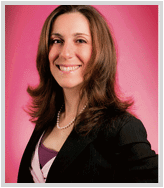 Kristen Friend holds two bachelors degrees from Indiana University and an associates degreee from the International Academy of Design. As Art Director for Custom Legal Marketing, her work has been awarded Webby Honorees, WebAwards, Davey Awards, Muse Awards, W3 Awards, and many others. She is also a contributor to Entrpreneur Magazine through the Entrepreneur Leadership Network.