Attorneys understand the value of a good presentation. Informal evidence gleaned from mock trial simulations suggests that, all other things being equal, merely the appearance of the defendant or witnesses can influence a jury's decision. Whether you are attempting to negotiate a settlement, convince a jury or bring a new client on board, the way in which you present your case matters.
The same is true for marketing: presentation counts. How can you compete if generalizations and vague promises are all you offer prospective clients?
Two things hold true in the world of attorney marketing:
1. At a minimum, your clients expect you to "fight for them," be "responsive" and "understand their interests." That is part of your job, and simply telling prospects you are going to do your job is not inherently memorable.
2. All of your competitors will also market their experience and client service. They will make similar promises, and your challenge is to set yourself apart and stand out within the noise.
Compelling, memorable marketing helps educate potential clients. It goes beyond generalizations and confirms the value of your services. Here are some ideas for making your marketing pitch more distinct and persuasive.
1. Support your words with visual confirmation. In reality, only so many words exists to describe how you practice and what you offer clients. Sometimes there is no revolutionary, creative way to say you are experienced — you just have to say it. But the pitch does not need to stop there. Prove it with visuals.
If you are an established firm with decades of experience, consider illustrating the history of your firm with a creative timeline. The timeline can tell the story of your attorneys (including pictures) and highlight some of the firm's most notable accomplishments. A timeline works well in both print form and as in interactive element on a website, helping to keep visitors engaged and increase time spent on your site.
Show your process. People who are hiring a lawyer for the first time, or those who need a lawyer for a new and unique issue, are often anxious about how their matter will proceed. Outlining what to expect (through an online slideshow or printed brochure) will help calm their worries and affirm your position as a trustworthy authority. Provide a roadmap of predictable steps and include pictures of key team members who will help along the way. Consider including supporting quotes from attorneys.
Some of the most visited pages on an attorney website are the lawyers' bios. People want to know the professionals with whom they will be working. If you have a team that handles certain types of cases, off examples that demonstrate how they work together. Create pages on your site with pictures of team members, their roles and contact information. When you create pages that are both visually interesting and informative, people will be more likely to remember your firm.
2. Give concrete examples. Prospective clients are interested in knowing whether you have experience with their specific issue. Go beyond simply listing areas in which you practice and provide examples of how you have successfully handled past cases. Dedicate a section of your bio to representative matters. If you have experience outside the legal field that is relevant to your practice, explain how clients can benefit from that experience. Provide social proof in the form of reviews, testimonials and references.
3. Make accomplishments stand out visually. Most rating and review services provide badges, as do professional and civic organizations. In addition to listing your achievements, show off graphics that confirm your status and experience. And you don't just have to stick with the badges other organizations provide. Consider using typography and illustration to create your own badges for important firm achievements, like winning a large jury award or volunteering at a successful charity event. Pops of visual confirmation throughout your site will make your accomplishments more noteworthy to visitors.
4. Use personal anecdotes. Many lawyers are afraid to bring personal details into their bios or marketing materials out of concern for seeming unprofessional. The opposite is true: establishing a personal connection with your audience helps sell services.
Personal details can take many forms. If you are particularly passionate about your area of practice, explain what drove you to work in that area. If you participate regularly in a volunteer activity, share your service. Personal details can also be revealed through pictures. If you are an avid cyclist or play an instrument, for example, have pictures made of you with your instrument, bike or jersey. Show yourself reading your favorite book or walking through a favorite local spot.
Revealing select pieces of personal information also provides a conversation starter during initial calls or meetings. You may have something in common with a prospective client that sparks a connection that would not have been apparent had you kept your marketing strictly dry and professional.
5. Be proactive with your communication. Back up the promises you make online and in advertisements with action.
Prove you are responsive and available by sending welcome letters and information packages to new clients.
Provide a guarantee for returning calls and emails within a specific time frame — and follow through.
Anticipate questions and have easy to follow documentation available for clients who need to fill out paperwork or provide a deposition.
These are just a few examples of action that supports a brand promise. Think of ways in which you see client communication break down in your practice and work to address them with firm-wide client service policies.
Marketing must be approachable; it must go beyond the rational and into the emotional mind that informs our decision making. Offering indistinguishable promises does not go far enough. Show clients how you can help them, offer visual and written proof, connect with stories about your attorneys and team, and follow through with action that supports your firm's brand.
---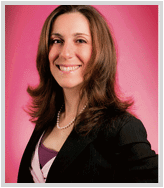 Kristen Friend holds two bachelors degrees from Indiana University and an associates degreee from the International Academy of Design. As Art Director for Custom Legal Marketing, her work has been awarded Webby Honorees, WebAwards, Davey Awards, Muse Awards, W3 Awards, and many others. She is also a contributor to Entrpreneur Magazine through the Entrepreneur Leadership Network.