Recently, I participated in a discussion that was published on Forbes regarding ways to rectify a steep decline in web traffic.
In my response, I said:
Use Google Analytics To Compare Declines In Organic Traffic To Individual Pages
Using Google Analytics, compare the individual page traffic by visiting Behavior > Site Content > All Pages in the left menu. This will show you which pages have seen the greatest decline. You can add a "Secondary Dimension" of "Source" to see which source is responsible for the drop. If the source that has declined is "organic," it's time to audit your content and link portfolio.
This really is the starting point to any investigation so I want to go into more details on how to begin the process.
Go into Google Analytics
Step 1: After logging in, go to Behavior > Site Content > All Pages in the left-hand menu.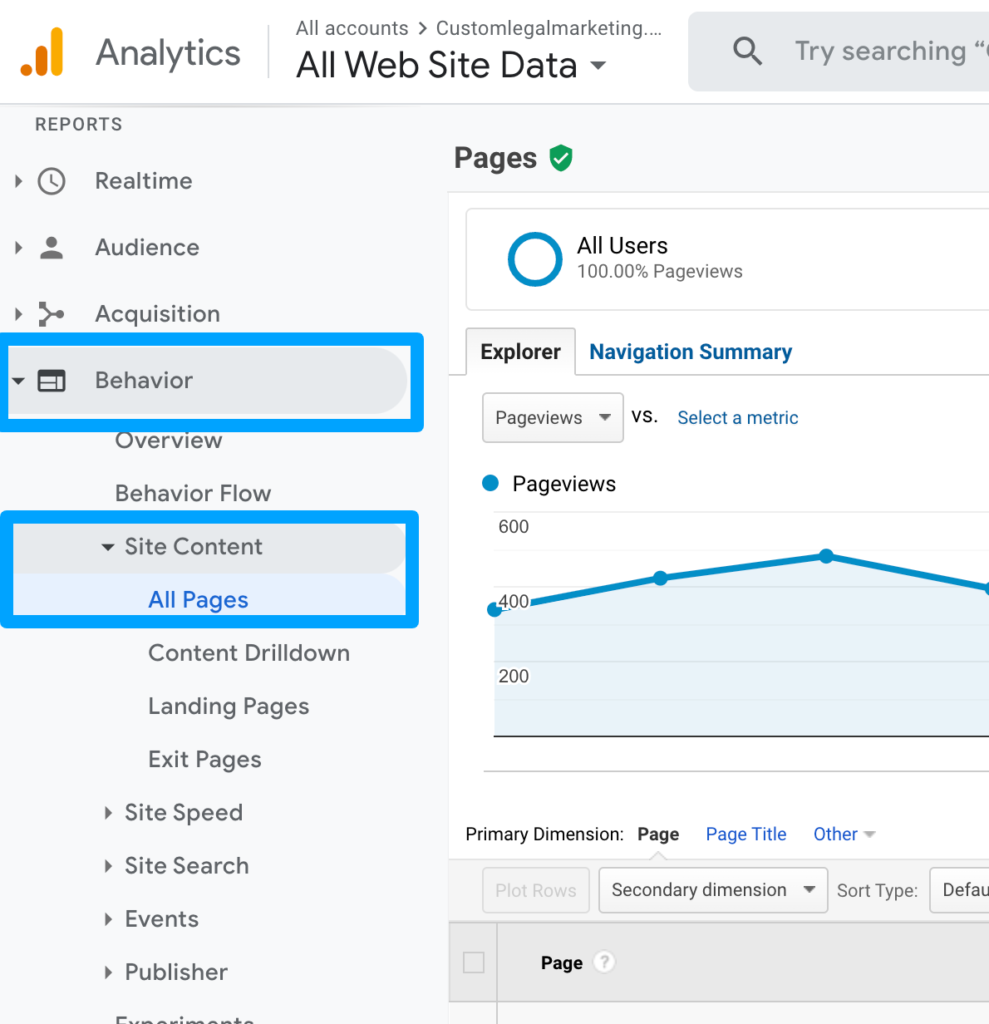 Step 2: Choose your dates. In this case, I am going to compare January - February of 2022 against November - December of 2021 to see which pages on customlegalmarketing.com have declined.
You can click on the date on the upper right of your screen and set your review period and the period you are comparing against.

Step 3: Sorting your pages.
Scroll down to the table that lists your content and sort the "Unique Pageviews" column from biggest loss to biggest gain. To do this, click on the column heading until you see a little gray arrow pointing up.

Step 4: Start scrolling!
You may see some pages that relate to campaigns that are no longer running. You can ignore those since the drop in traffic is simply a result of the campaign ending. In my review of Custom Legal Marletings pages, I came across a 3 year old blog entry on offering free consultations. The blog entry was popular back in its day but it's not getting a lot of attention these days. So I am click on the URL and dig a little deeper.

Step 5: Secondary dimension
Click on "Secondary dimension" and select "Source/Medium."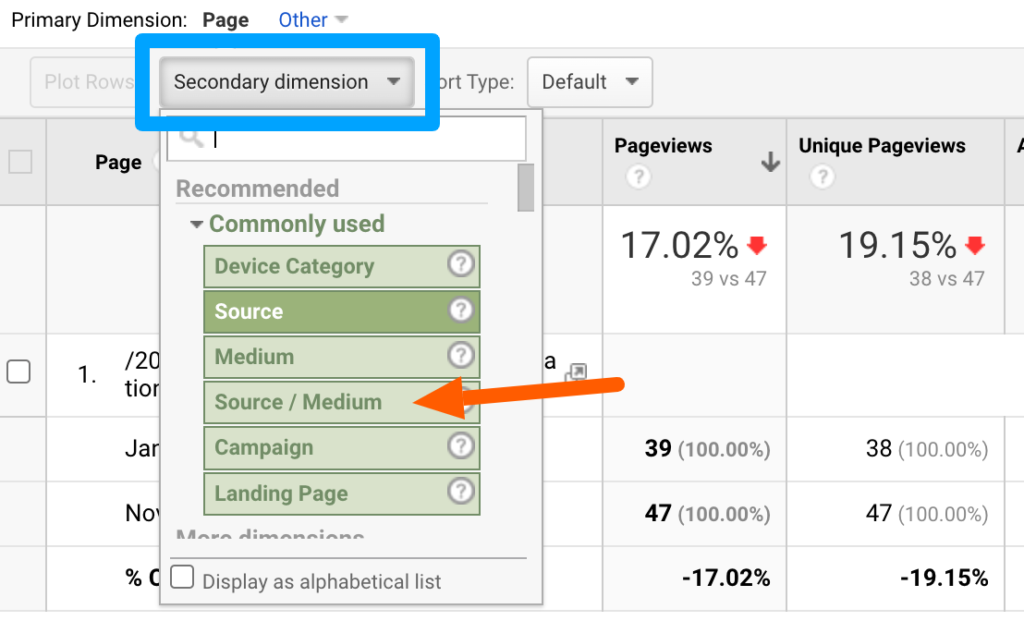 Step 6: What source is losing the most traffic?
With the secondary dimension on, I can now see that most of the traffic has dropped off from organic Google users.

How to use this data?
In this case, we're reviewing an old blog entry that has become stale and therefore isn't delivering the organic traffic that it used to. We have some options on how to get this page to generate some activity again:
First, we need to check out the competition. A search for "should lawyers offer a free consultation" shows some newer posts that are a little more detailed. We are still on page 1 but we're now mid-page 1.
Second, we review the new competition and make a plan for developing better content.
Third, we update the page.
In this case, we decided the best course of action was to add some new content to the existing page, update the title to make it more relevant to lawyers, and then changed some of the wording.
Sometimes, it's that simple. If you've sustained a sudden drop that isn't bouncing back, then it's time to audit your link portfolio, dig deep into your competitors, and possibly work on a rewrite of the affected page.
Having some trouble with your law firm's SEO performance? Let's talk!
Click here to schedule a free marketing consultation.
---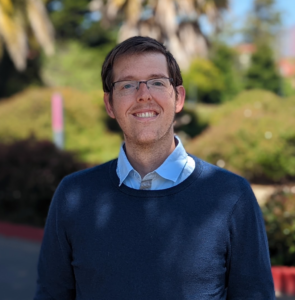 Jason Bland is a Co-Founder of Custom Legal Marketing. He focuses on strategies for law firms in highly competitive markets. He's a contributor on Forbes.com, is a member of the Forbes Agency Council, Young Entrepreneurs Council, and has been quoted in Inc. Magazine, Business Journals, Above the Law, and many other publications.