Your firm's website must play many roles. At its core, your website works as a marketing tool and 24-hour brand ambassador for your firm. However, technology has advanced to such an extent that static sales pages no longer suffice — either for visitors or search engines.
"In the future, the winners in the legal world may succeed by dint of survival of the most responsive."

–Richard Susskind, The End of Lawyers (2008)
Attorney websites are evolving to become client relations tools as well as marketing assets. People expect instant access from their service providers, attorneys included, and a website can help fulfill that need. If your website takes service into account, clients will have the option of maintaining some type of contact with your firm whenever they need it, and without having to call or email you and wait for a reply.
In order to satisfy both first-time visitors and long-term clients, your website should focus on giving each group useful information and tools. Client portals and strategic content provide two ways to offer real value.
Client portals
Client portals provide a number of benefits for both attorneys and clients. Portals help streamline some types of communication, which makes a firm run more efficiently and reduces possible client frustration. They offer increased security for the transfer of sensitive documents. And they empower clients by providing access to information relevant to their cases. Here are some common features of client portals that can help boost client satisfaction.
Direct messaging and collaboration
Client portals allow for secure messaging between clients and individual attorneys. A well-built messaging system keeps everyone involved in a case informed without the hassle of long, messy email strings that often contain easy-to-miss, buried information. In a portal, comment streams are stored in one place, eliminating email confusion and the inconvenience of repetitive cycles of phone tag. Everyone can be updated at once, and everyone can check messages at their convenience.
Some practice management systems allow you to add contacts to a group who are not clients or members of the firm. Investigators, experts and attorneys can all collaborate in one space, with access to information relevant to the case they are all working on.
Document management
Portals can be used to store, track and manage documents. Many management systems include history tracking and can store current and previous versions of documents. This reduces paper and mitigates the possibility that a document will be sent on an insecure connection. History tracking provides valuable backup and reduces the chances that the wrong version of a document will be emailed to a client.
Calendering
Including a calendar system in a client portal saves everyone time. Clients can simply log in and make note of important appointments or upcoming court dates. Many practice management suites that offer client portals as a service allow clients and attorneys to sync their online calendars with a third party calendar, like Google or Microsoft Outlook.
Bill pay
People receive very few paper statements from creditors anymore, and they are accustomed to being able to handle most of their financial transactions online. It seems natural to log in to a portal to view and pay invoices. In fact, offering clients a way to make secure payments in the same space they have already been accessing for information about their case may help to ensure more on time payments. Most bill pay software will integrate with your firm's existing billing system and can send email alerts when new invoices are generated or paid.
Security
Client portals provide an answer to email security concerns. Emails no longer need to contain potentially sensitive material; activity can be limited to alerts indicating that files within the portal have been updated. Using available technology to increase security and efficiency and provide responsive client service is a natural evolution for attorneys. For firms interested in using cloud resources to enhance their websites, the ABA provides a helpful chart outlining state bar could ethics opinions.
Content
Your firm's website content tells visitors and search engines who your firm is. Are you an authoritative source? Do you provide information that is helpful to clients and prospective clients? Online advertising follows the same rules as in-person networking: if all you do is talk about yourself, people will soon become disinterested. You must listen to others, assess their needs and provide them with resources that address those needs. Here are some ways your website content can be used to help visitors.
Long-from practice area pages
Contrary to what intuition might suggest, long-form content ranks well and gets read and shared at a higher rate than shorter content. Readers want information. Begin by building pages that are designed to provide value to clients. As you create pages for your practice areas, think of questions clients commonly ask and try to answer them with your content. Give your readers visuals, graphics, statistics and any other information that can help them understand and add context to their legal concerns.
Answers to frequently asked questions
FAQ pages provide the dual benefit of being good for visitors and website optimization. When an individual is searching for an attorney, he or she has a specific issue that needs to be addressed. This person is likely to ask a question, often in the form of a long-tail keyword search, rather than use a more generic term like "family law attorney." Someone who is interested in a divorce, for example, might ask how long a divorce takes or how property will be distributed. If your website can provide answers to these questions, it will improve your trustworthiness, authority, search placement and, most importantly, the likelihood that a visitor will contact you to handle his or her case.
Downloadable guides
Attorneys are often hesitant to provide anything that may seem like free legal advice. However, explaining how the law works or how a case may progress through the court system does not cross ethical lines, nor does it make people instant experts who will no longer need your firm's services. When you give visitors a downloadable guide, you are telling them that you understand their needs and are willing to go out of your way to provide a helpful resource. The guides can be branded, which will remind prospective clients of your firm every time they read them. And, guides can be easily shared, which provides another source of potential referral business.
People expect to find real information on an attorney website, not just a brochure. When you use your website to provide value to visitors and help facilitate better client service, it will offer increasing benefits to your firm as well.
---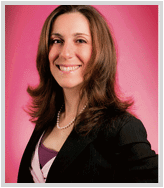 Kristen Friend holds two bachelors degrees from Indiana University and an associates degreee from the International Academy of Design. As Art Director for Custom Legal Marketing, her work has been awarded Webby Honorees, WebAwards, Davey Awards, Muse Awards, W3 Awards, and many others. She is also a contributor to Entrpreneur Magazine through the Entrepreneur Leadership Network.