Local citations tend to proliferate regardless of whether you are paying attention. Even if you have done very little active citation building, your firm's local information is likely listed tens if not hundreds of places across the web. If you are working actively on local SEO, you will likely find thousands of sites on which a you can build a listing for your firm.
Ensuring the accuracy of your local citations is critical to your firm's SEO efforts. Search engines use off-site local citations to help determine how trustworthy a firm is, and by the transitive property of Google, how trustworthy that firm's website is. Every firm should work to build a strong foundation of local citations while actively attempting to remove and clean inaccurate listings. Here is an outline your firm can use to begin locating, cleansing and growing your local citation portfolio.
What is a local citation?
A local citation is any mention of your firm's name and contact information on a third-party website. A local citation may, but does not have to, include a link to your website. For example, your firm may be listed on a local chamber or commerce or bar association website without a link to your firm's site.
When Google crawls pages looking for citation data, it is looking primarily for your NAP information. NAP stands for Name, Address and Phone number. These three items are the foundation of a local citation. A local citation may also include:
• Your firm's website URL
• An email address for the primary contact
• Your Facebook page URL
• Your Google My Business listing URL
• Hours
• A description of your services
All of this information must be consistent wherever it is mentioned across the internet.
Why are local citations so important?
Google sees off-site references to your firm as "votes" confirming your legitimacy, similar to the way it views links from reputable sources to your site. Correct, consistent citations tell Google that you are who you say you are — and by inference that your firm can be trusted. And as with links, citations from well-known, highly-indexed pages, like national directory sites, weigh more heavily than those on lesser-known or suspicious websites as trust factors.
Incorrect citations can harm your firm's reputation with Google and Bing. If a variety of disparate data is coming in from across the web, search engines don't know who to trust, and that lack of trust is passed to your website. Moz's 2015 Local Search Ranking Factors study lists External Local Signals as the fourth most important overall ranking signal, ahead of both reviews and mobile/behavioral signals. In terms of local search, authoritative citations are listed as the number one ranking signal that helps push a firm or business into the local three pack.
Consistent, accurate local citations are critical to a law firm's SEO efforts.
Where can my firm start?
Offline, begin by confirming and recording your correct NAP information exactly as you want it to appear universally. Be sure to include suite numbers or any secondary address information.
Next, start compiling a list of potential inconsistencies. Include old phone numbers, 800 numbers, incomplete numbers, former names, former addresses, names of former partners, common misspellings and any other information you can think of that is linked to your firm and could cause a citation to be inaccurate.
Online, start with your own website and your Google My Business profile. Enter your NAP information exactly as you have recorded it everywhere that it appears on your website and within your Google My Business profile.
Why causes incorrect citations?
There are three ways a listing may be inaccurate:
Mismatch/Incorrect: Any citation that has an incorrect firm Name, Address or Phone number
Duplicate: More than one listing in the same directory
Incomplete: A citation with correct, but missing information. Once you have claimed a listing, you must fill out all profile information completely. Fill out every field you have an option for, and upload a good-quality photograph.
Once a piece of information is online, it is there for good unless intentional, manual action is taken to remove it. You may not have had any part in creating some of your firm's listings. Bots crawl the web and scrape information with no input from your firm. If only one bot picks up on one inconsistent citation, the effects will be multiplied as others scrape and republish the same erroneous data.
Other incorrect local citations may be old listings you created yourself but don't remember. This is perfectly normal. Google's long history of changes to its local product coupled with its multiple attempts at creating a social network (remember Buzz?) may certainly contribute to an awkward listing history. Some reasons your law firm nay have incorrect NAP information include:
• Having moved your physical office address
• Having multiple office locations
• Having used tracking phone numbers for marketing campaigns
• Having added or removed partners, or otherwise having changed your firm's name
• Someone in your firm, or someone you hired, creating listings without an understanding of NAP uniformity
• Interchangeably using local and 800 phone numbers
Locating faulty citations
Discovery will involve strategic, manual searching. Here are some ways to see what NAP variations already exist for your firm.
1. Check with the BBB.
Per Phil Rozek's, excellent suggestion, you can use the BBB (if you have a listing) to see what information the organization has for your firm. To see if you have a listing, try Googling "firm name + BBB."
Right within the listing, if applicable, you will see two links: View Additional Phone Numbers and View Additional Web Addresses. Hover over those links to see variations.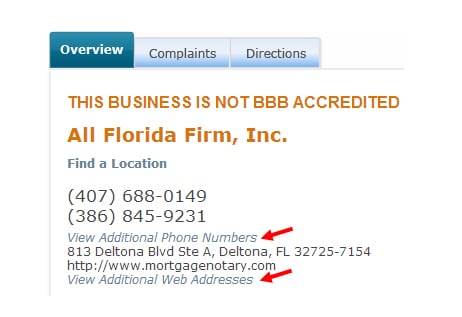 Also, at the bottom of your listing's page, you will see services offered (which should match your Google My Business categories) and Alternate Business Names.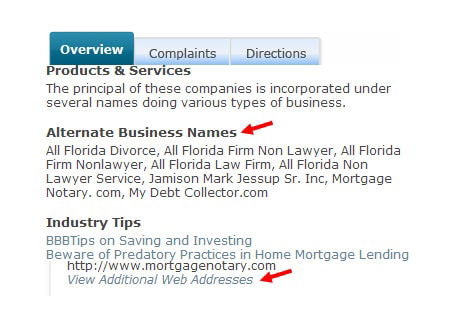 2. Search the big directory sites.
Go to big review sites like Yelp.com and search for your firm. You may already have a listing even if you have not set it up or claimed it. On Yelp, scroll to the bottom the home page and click on Claim Your Business Listing.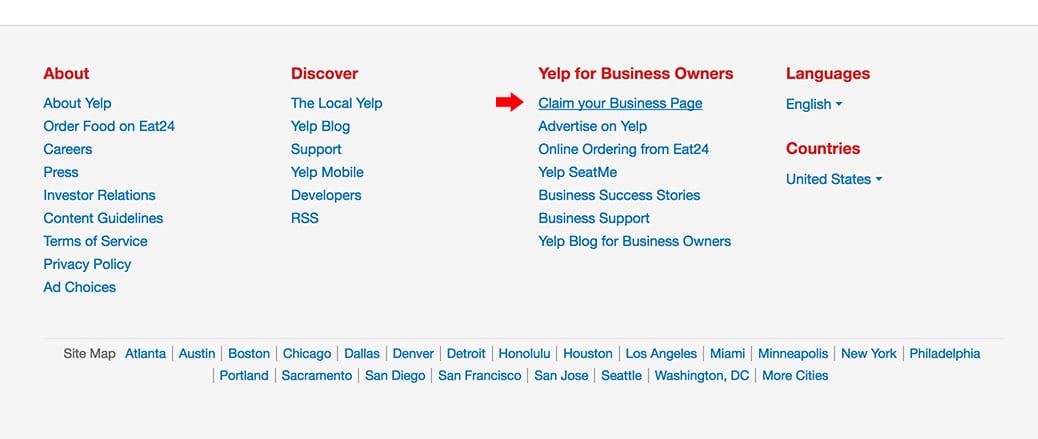 You will be prompted to enter a name and location: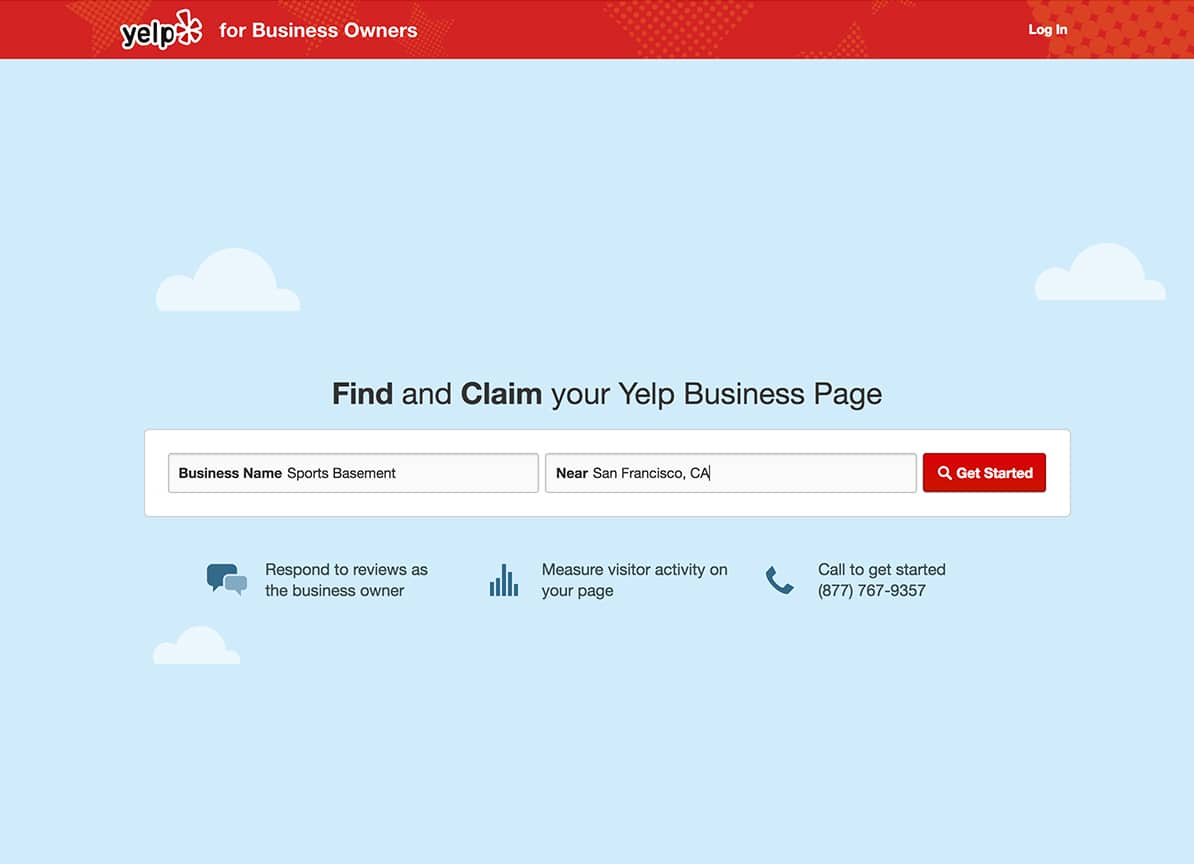 The search will reveal all listings on Yelp with that name or a similar name, as well as the contact information associated with that name and whether the listing has been claimed.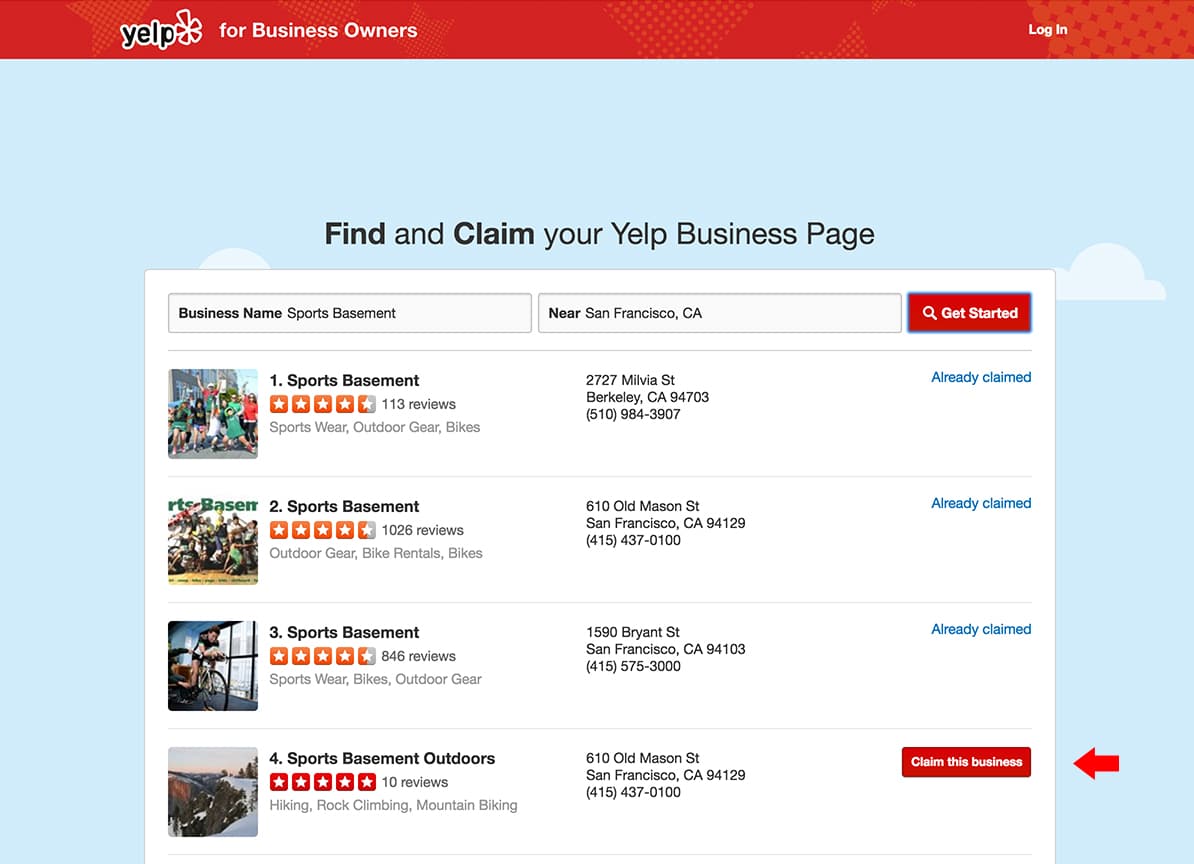 In this example we're using a local non-attorney business, and you can see there is one listing with a name variation that the business has not claimed. The address information matches another business name. This business should consider Googling the alternative name to see where else it may be in use.
A search for the same business on Superpages.com reveals another variation: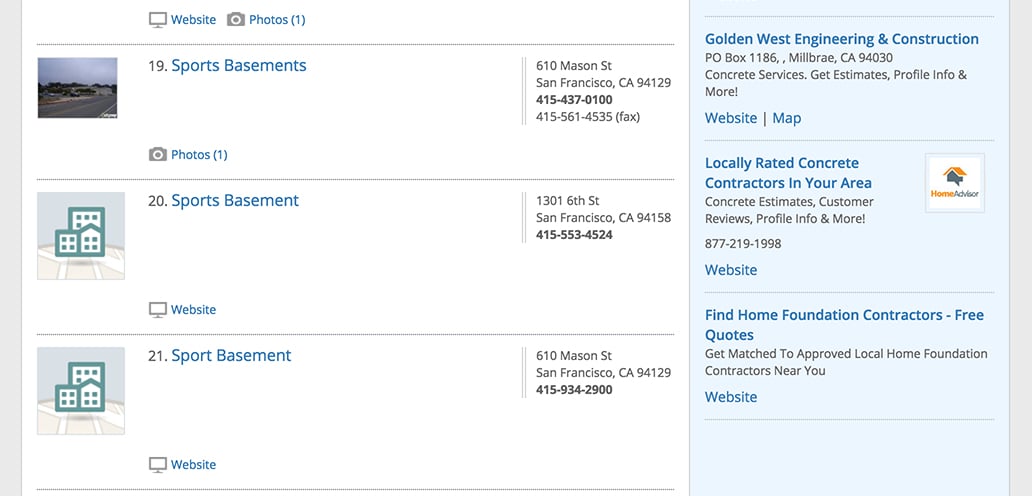 If you were doing these same searches for your firm, you would record all of the variations you uncover so that you can search for them individually. Also, you would need to record which listings should be claimed and which should be deleted, if possible.
Perform similar searches on the ABA's website and that of any local bar association.
3. Use data aggregators.
Moz has one of the best citation checking tools available. For free, you can search for your firm and receive a local listing score. Searching again for "Sports Basement" reveals the following list of options: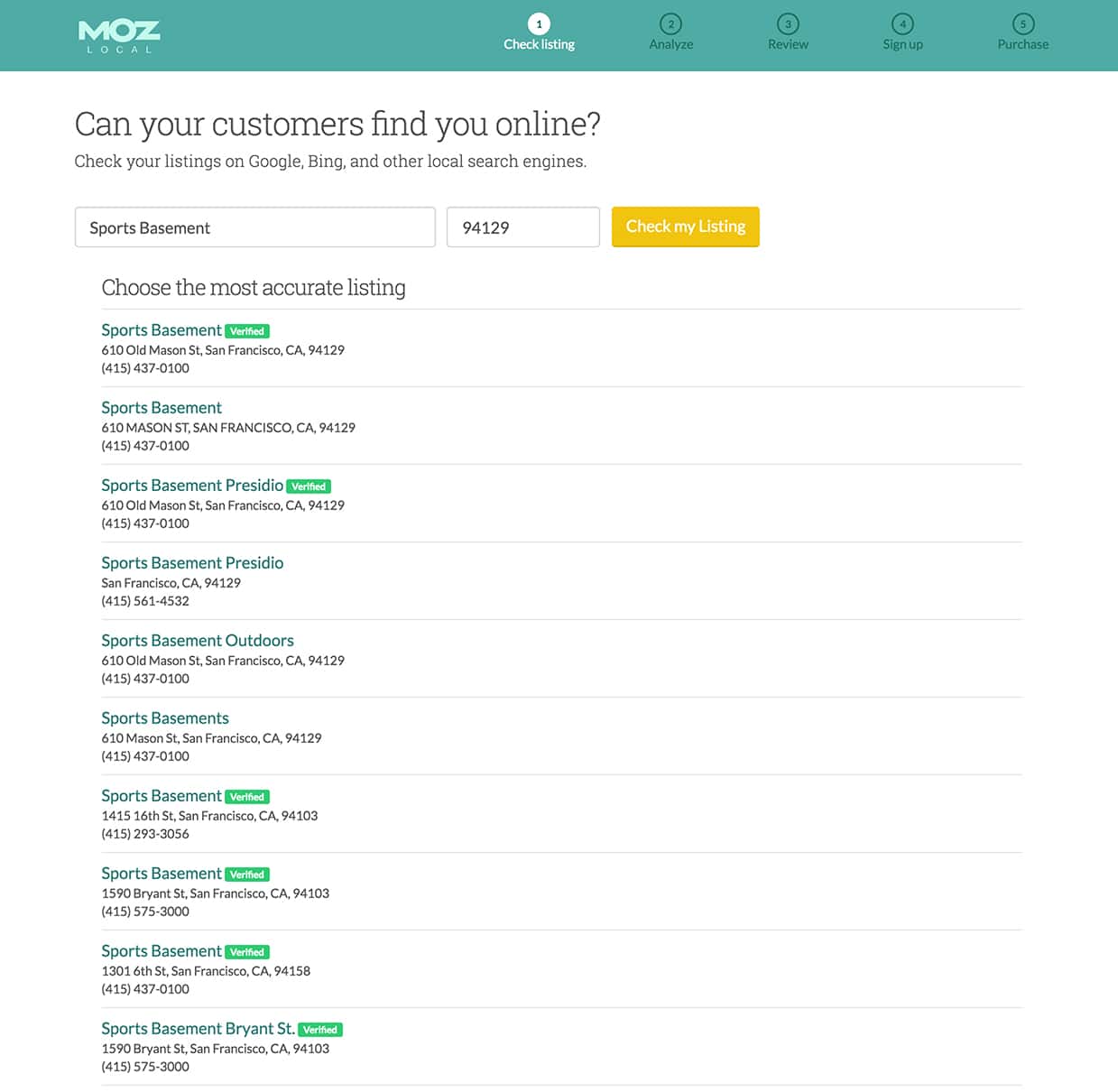 The tool also breaks down your citations into the categories: Complete, Incomplete, Inconsistent and Duplicates, which you can click through, and it shows reviews associated with your firm at the bottom of the page.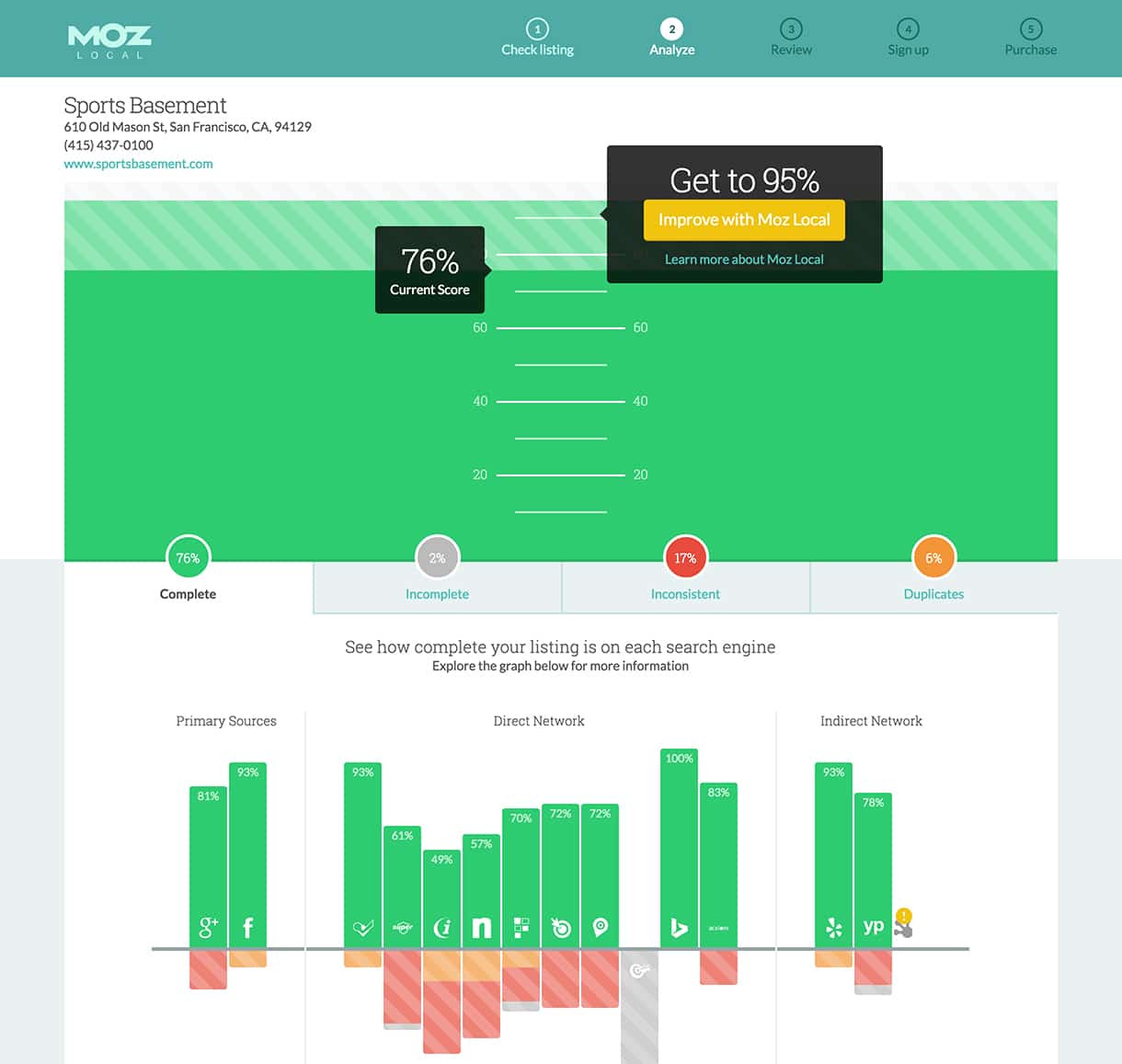 You can use the information you glean from these searches to perform additional searches for the variations you have uncovered, which will reveal where incorrect citations may exist across the web. Do this using the following search terminology to make very specific inquiries with Google.
a) Search for items in quotation marks to return only results that contain that exact phrase. For example, use the term "Incorrect Firm Name" to return a list of results in which only the exact match incorrect name is being used.
b) Combine exact match searches with "+" and "-" signs. Putting a plus in between terms tells Google to look for both of them. Entering, for example, "Correct Firm Name" + "123-456-7890" will show you all listings with the correct name and that phone number. And entering "Correct Firm Name" - "123-456-7890" will produce results that contain the name but do not also contain the phone number. This can be used to find listings with a correct phone number and incorrect address or listings with an incorrect phone number — and any other variation you can come up with.
Use a spreadsheet or other preferred method to track every listing, correct and incorrect, where each is located and the contact method for that website. Some will have automated forms that allow you to claim or delete a listing, or to request that a listing be removed. Be sure to read any documentation or FAQs before doing the work of actually removing a listing.
Other sites will not have an automated procedure, and in these cases you will need to contact the webmaster manually. Create an email template that is brief but specific, telling the website owner where the erroneous citation is, providing the correct information and politely requesting that the listing be changed.
Once you have corrected, claimed or attempted to correct a listing, note that on your document.
While this may seem like an overwhelming amount of work at first glance, it does not need to be. Every citation does not need to be uncovered and fixed in one day, one week or even one month. This is an ongoing process, the key to which is rigorous documentation and follow-up. Even devoting a few minutes (15-20) a day — or a week — will being the process of chipping away at potentially damaging local citation errors.
Additional resources:
---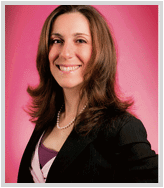 Kristen Friend holds two bachelors degrees from Indiana University and an associates degreee from the International Academy of Design. As Art Director for Custom Legal Marketing, her work has been awarded Webby Honorees, WebAwards, Davey Awards, Muse Awards, W3 Awards, and many others. She is also a contributor to Entrpreneur Magazine through the Entrepreneur Leadership Network.