Google has changed the local search equation once again with a big update to its local listing pack. Last Thursday, Google began switching out its local 7-pack for a redesigned 3-pack, or Snack Pack. For all queries that produce a local pack, Google is now showing only three results instead of seven.
The new design eliminates some familiar data. Listings no longer include full addresses or phone numbers. Searchers can see the street name but must click through to the firm's website or map result to see the street number. The mobile version still includes a "Call" button, but it does not list a specific phone number.
Google has also removed all Google+ links from the listings. Reviews are still displayed but are referred to as simply "reviews" rather than "Google Reviews."
Overall, you have to do more clicking to navigate the Snack Pack results. Google no longer shows the fly-out card you used to see when hovering over a listing. To see the full card, you must click through to the map result. Google is also including a larger "More" link along with a menu icon at the bottom of the three pack. Clicking on the more link brings up a new page that displays 20 local results. You can continue to click through additional results from this page.
Initial data suggests that while Google is displaying fewer local results, it is showing the local pack for more queries. According to Moz, the local pack was showing on 14.3 percent of queries shortly after the change, which represented an increase of 427 percent.
The remainder of this article was written before these adjustments, and the study outlined below describes data collected before the Snack Pack rollout. However, the tips for local optimization and long-tail keyword use are still quite relevant — perhaps more so due to increased competition for fewer local spots.
The study
Search engines are more likely to give prominent placement in organic results to large websites, according to a BrightLocal study released last month. The study confirms what marketers, law firms and small business owners have long suspected: the big three search engines — Google, Bing and Yahoo — make it more difficult for smaller sites to compete against national brands and large directory websites for many searches.
Smaller websites did tend to perform better in organic results for queries using long-tail keywords and geo-modified terms.
Long-tail keywords are terms that use several words like, "lawyer for license restoration." They can also be questions, such as, "How do I set up a living trust?" Long-tail keywords tend to have higher conversion rates. These terms are more focused, indicating the searcher is farther along the purchasing path than someone looking up a more general term like "DUI" or "attorney."
Geo-modified terms are those that include a location, like "San Francisco IP attorney." According to BrightLocal's research, when a keyword is paired with a location, search engines display a larger local results pack and more local sites in organic results.
The method:
BrightLocal performed over 500 searches across Google, Bing and Yahoo. The keywords were broken into three categories:
· Generic: i.e. lawyer, attorney
· Service: i.e. DUI lawyer, estate planning
· Long-tail: i.e. planning for public benefits, small business entity formation
Search results were also broken into three categories: the local pack, large website organic results and local business organic results.
The findings:
1. Generic terms
Large websites dominated the results for generic organic terms. Google was more likely to display a large local pack, and prior to the change it gave more page one space to local firms, while making it more difficult for them to rank well organically.
Update:
Now that it has rolled out its 3-pack, Google could go one of two ways with the remaining page-one listings. Large companies and directories could hold around the same number of spots, giving smaller businesses more room to gain share in organic results. Or, Google could continue the trend of giving more exposure to large websites, leaving local firms to compete for fewer first page spots.
2. Service terms
Results for service terms were similar to those for generic terms. Here, local businesses seem to actually be losing share in organic results, with all three search engines displaying an average of only one organic local result on the first page.
The continued dominance of larger sites could be explained in part because it is difficult for search engines to evaluate user intent for service terms. Someone could be searching for "estate planning" because they want to download the documents for themselves or because they want to hire an attorney.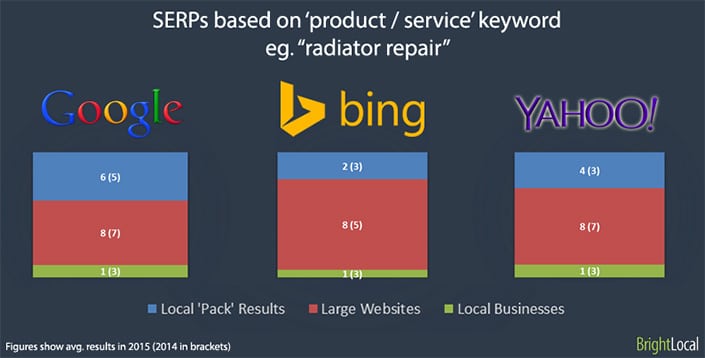 Update:
For these types of terms, Google appears to have been trending toward showing more local pack results and fewer organic results. The 3-pack will reverse this trend, decreasing the number of local listings at the top of the page. This, again, could give smaller companies the ability to compete for page one exposure in organic results or further squeeze them out.
3. Long-tail keywords and geo-targeted keywords
These keywords offer local business the best chance at organic page-one placement. Interestingly, Google reduces the number results in the local pack considerably for long-tail phrases, allowing big sites to keep a large portion of page one listings.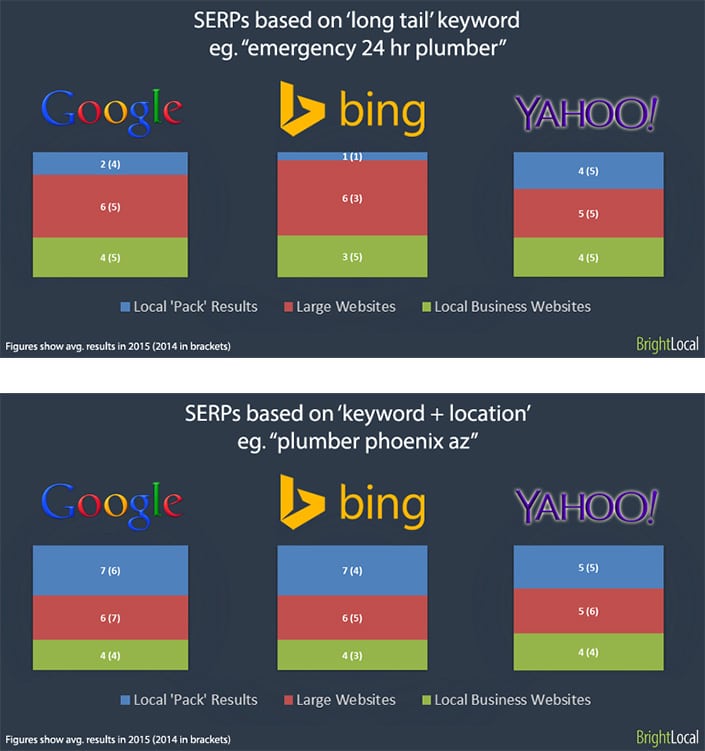 Update:
The data collected for long-tail keywords most accurately reflects the number of local listings now being shown for all queries. The question remains whether Google will decide to give smaller websites more organic exposure, similar to what is seen here for long-tail keyword results, for a wider variety of terms.
Takeaways:
1. Focus on local optimization. On Google, for all terms studied, a local business's best chance for page one placement was to gain a spot in the local pack. Large directory sites, like Yelp and Lawyers.com, dominate organic results for general law-related terms. This may not change with the Snack Pack, in which case firms will have to compete for even fewer first page spots.
· Create unique, helpful location pages (swapping out city keywords within the same copy does not count).
· Do regular evaluations of directory listings to ensure that your NAP (name, address and phone) information is consistent.
· Set up and optimize a Google My Business listing.
· Encourage reviews on your Google My Business listings.
· Write locally relevant content for your blog and social media posts.
Do not ignore general terms; Google is looking for a balanced mix when determining content quality. Spammy content will only hurt local and organic results.
2. Use FAQs strategically. People who find your website because they are looking for a specific answer are valuable leads. They have an identifiable problem they need to solve, and your firm's website should clearly demonstrate you can solve it.
· Set up pages that answer common questions about your practice area and the legal process.
· Write Q&A articles for your blog.
· Produce a video series with question-based titles.
If your pages can rank well for common questions, you are more likely to draw traffic that is ready to contact an attorney.
3. Tap into your clients for content ideas. Your content should cover a range of topics, including in-depth pieces that address your potential clients' concerns. One of the best ways to learn what interests clients is to ask them. Developing strategically targeted content can also help your organic rankings for long-tail keywords, since you will be more likely to cover topics people are actually looking for.
4. Get listed. Take advantage of a disadvantage. If large directory sites are more likely to rank highly in organic search results, make sure your firm is listed in those directories. A 2014 Software Advice study found that Yelp is by far the most trusted attorney referral site. Of those surveyed, 61 percent chose Yelp as most trustworthy. In comparison, Avvo was chosen by only 10 percent and SuperLawyers by nine percent. Claim your listings on large sites and fill them out with quality pictures, reviews and information about your firm.
---
Kristen Friend holds two bachelors degrees from Indiana University and an associates degreee from the International Academy of Design. As Art Director for Custom Legal Marketing, her work has been awarded Webby Honorees, WebAwards, Davey Awards, Muse Awards, W3 Awards, and many others. She is also a contributor to Entrpreneur Magazine through the Entrepreneur Leadership Network.