Google's search algorithm gets updated regularly but sometimes they roll out a "core update" which was formerly referred to as "broad core updates." Basically, a core update is just any update that affects Google's entire search algorithm.
In 2022, Google rolled out 10 core updates addressing everything from spam to helpful content to product reviews.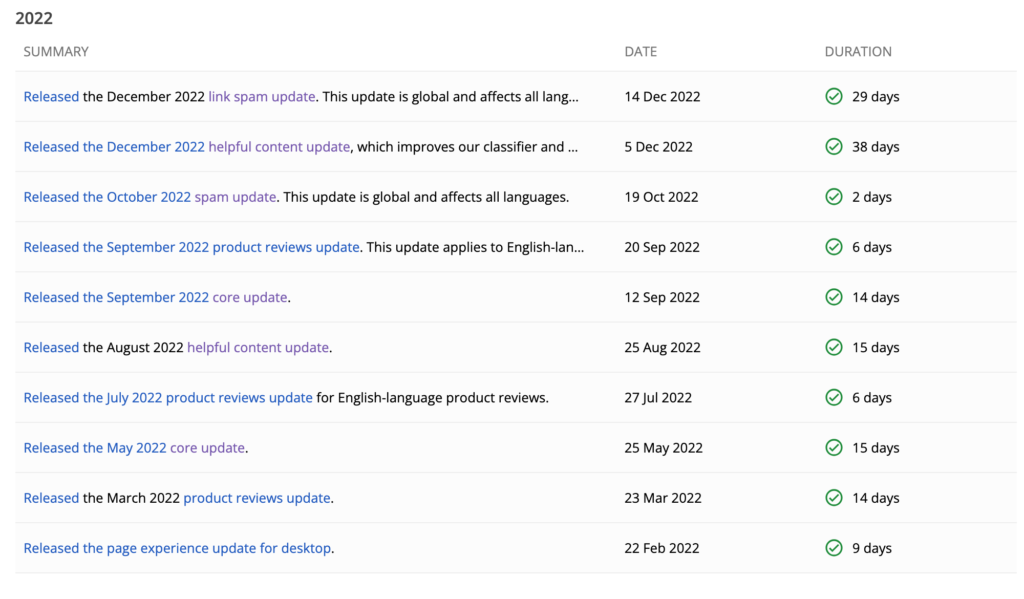 This year, Google has been attacking spam. AI content (which is no longer prohibited in search) has forced the search engine to raise the bar on what it sees as "quality" content. Let's take a look at what they've done in 2023 and how it's affected law firms.
August 22, 2023 - Core Update With a 16-Day Rollout Period
This update was completed on September 7th. While we're not 100% sure on everything that was targeted in the update, the results that we saw for our clients were mostly positive. Some of our law firm's saw their rankings surge during the rollout. However, others saw a dip during the update, followed by a surge after. The improvements were predominately seen on the mobile rankings.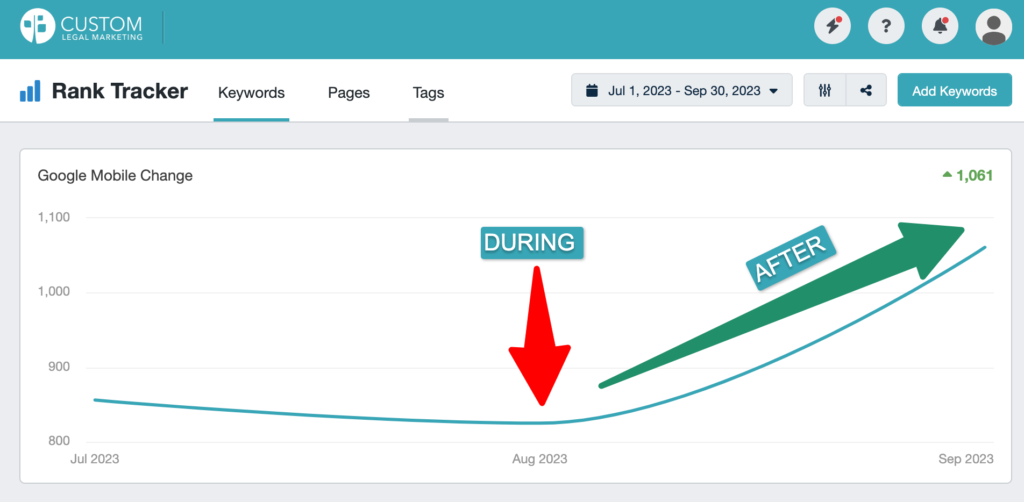 September 14th - Helpful Content Update With a 13.5 Day Rollout Period
Google's Helpful Content system decides if your law firm's content offers little value, minimal added value, or simply doesn't do much to serve people. If your law firm has junk pages that solely exist for search engines and doesn't offer anything new to your human readers, the Helpful Content system update could negatively affect your law firm and require a change in your SEO strategy.
This update was a little bumpier for our law firms that have massive libraries of content. Desktop rankings were most likely to be affected. Practice area pages faired well through the update but we did see some old blog content take a hit during the rollout. It was a good time to clean up the sitemap and remove anything that might be outdated or use it as an opportunity to update the page with new data.
Like with the August update, we reclaimed our rankings after the rollout so the negative movement that we saw was mostly just turbulence, not an indicator of a problem with our clients' website quality.
Just like in August, the Helpful Content rollout was bumpy in the middle but rankings recovered or did better after the rollout was complete.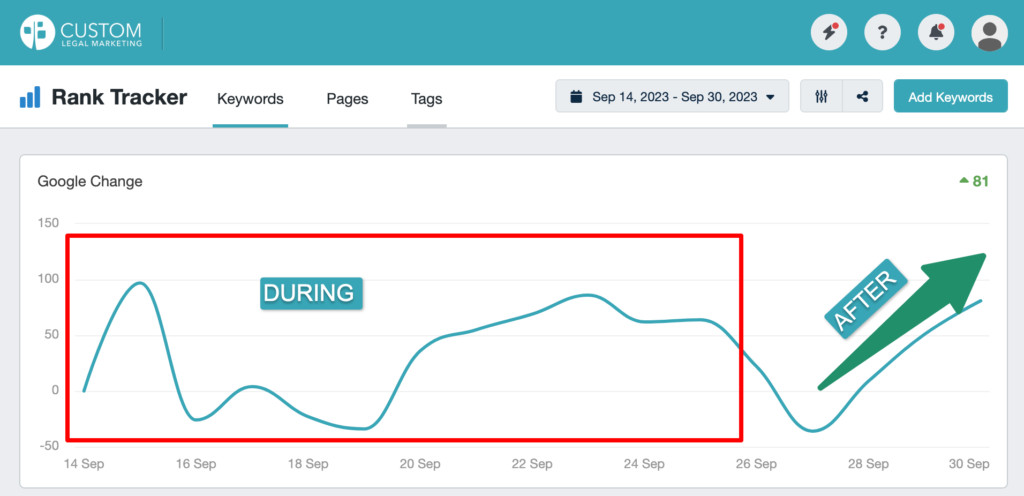 October 4th - Spam Update Still Rolling Out
Google's spam updates are exactly what they sound like. They're looking for spam and ready to remove it. Google SpamBrain represents the intricate algorithms and mechanisms employed by Google to combat spammy and low-quality content across the web. Its impact on a law firm's website can be substantial, especially for websites that employ a lot of repetitive or duplicate content. SpamBrain scrutinizes your law firm's website, sniffing out dubious practices like keyword stuffing, irrelevant backlinks, or plagiarized text. Google SpamBrain is a guardian of integrity in the digital legal arena, ensuring that law firms are rewarded for their genuine expertise and dedication to helping clients while penalizing those who seek shortcuts through shady SEO practices.
This particular spam update also focuses on improving search results in Turkish, Vietnamese, Indonesian, Hindi, and Chinese, so some multi-lingual law firms may be seeing additional turbulence from this ongoing update.
October 5th - Core Update - Projected End Date is October 19th
The day after unleashing SpamBrain, Google rolled out another general core update. While relatively calm at first, over this past weekend, many members of the SEO community started seeing huge swings and even (contrary to the mission of the spam update) websites that copied their content ranking higher than them.
Right now, we have two extensive updates to Google's search algorithm, which is why we're seeing a lot of turbulence in organic search results.
Local is surprisingly stable.
While mobile and desktop rankings bounce around, local rankings are showing surprising stability during these rollouts. That's helping shield many law firms from feeling the full brunt of the turbulence since they're maintaining top-page exposure through the map... assuming Google hasn't moved the map down the first page as we have seen in some markets.
What happens next?
Custom Legal Marketing's SEO team is not only monitoring the updates and rankings, we're also researching the competing websites that Google temporarily elevates or downranks. This helps us find clues about what may be rewarded or demoted after the update completely rolls out.
For the most part, our clients do better after each update. But if Google throws a curve ball, we're ready with an action plan.
If you're concerned that your SEO team isn't paying attention, give us a call! Let's talk about how your law firm can get more leads and sign new cases by working with Custom Legal Marketing's expert law firm marketing team.
---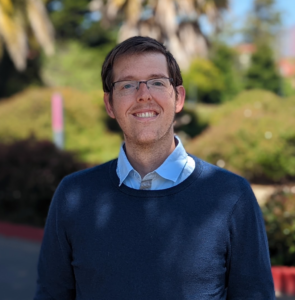 Jason Bland is a Co-Founder of Custom Legal Marketing. He focuses on strategies for law firms in highly competitive markets. He's a contributor on Forbes.com, is a member of the Forbes Agency Council, Young Entrepreneurs Council, and has been quoted in Inc. Magazine, Business Journals, Above the Law, and many other publications.